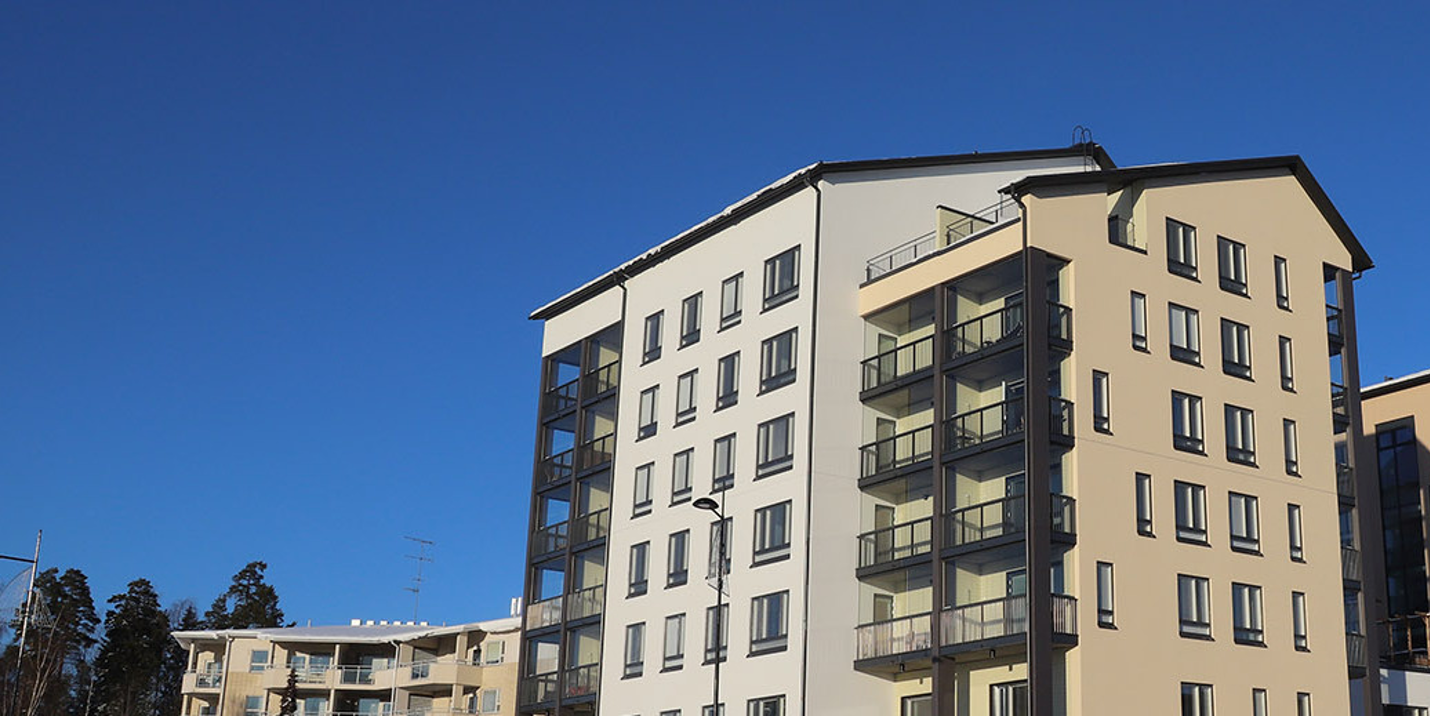 A vibrant spot outside of Helsinki
An attractive addition to the city center
Sipoo Söderkulla is a fairly typical and peaceful community with schools, grocery stores, a library and other vital services, with that, the new-build of Sipoon Amiraali is seen as a vibrant addition to the city. The property consists of three buildings and they are split between two housing companies, Asunto Oy Sipoon Amiraali + and Asunto Oy Sipoon Amiraali ++.
With more than 70 apartments the buildings are mainly a residential property. However, at street level of the the seven-story residential towers are two commercial premises, and an office of regional wellbeing services county, and a pharmacy are found in the connecting building. A small outside sitting area with growing boxes and greenery is found on the balcony in between the residential buildings.
What is a good indoor climate in a building?
A number of different activities and occupancy patterns can be expected to take place in a property like Sipoon Amiraali. There are offices with possible working hours from early morning to late afternoon, a pharmacy with perhaps extended store hours and appartments where people are coming and going depending on their individual commitments and routines. The latter tenats are also cooking, which often gives rise to odors.
Everyone inside a building needs a good indoor climate to feel good inside, for their health, productivity and comfort. However, what a good indoor climate actually is, differs among the people in the building depending on their activities. This is what was important to carefully consider in the case of Sipoon Amiraali where people live, work, recuperate and sleep.
Learn more about why the indoor climate matters
Central air handling units and cooker hoods in all apartments
The ventilation solution for the apartments at Sipoon Amiraali is designed with central air handling units, and cooker hoods in every kitchen. Our Swegon GOLD PX units, equipped with counter flow plate heat exchangers, are selected to ensure an energy efficient operation and at the same time prevent odor to spread in the buildings. In addition, Swegon CASA R9's are used to bring fresh air into the stairwell.
Inside the appartments, CASA Salsa Central cooker hoods are found in every kitchen for extract of used air. Apartment specific control dampers interact with the central air handing unit to allow for a good indoor climate no matter if the cooker hood is in idle or in a boost mode.
Cooling integrated in an air handling unit
The needs, in terms of indoor climate, in parts of this building required the selection of a cooling unit. Our Swegon COOL DX was provided as an integrated unit in one of the GOLD air handler which makes the latter able to both ventilate and cool the indoor environment.
In addition, our Swegon WISE system for demand controlled ventilation (DCV) was chosen to ensure a good indoor climate at all times in the connecting building's office areas.
WISE monitors the indoor climate by the means of sensors which measure occupancy, temperature, air quality and else. In interaction with the air handler the sensors' measurements are used to adjust ventilation or cooling to suit the actual demand inside the building.
This means increased ventilation and cooling on a sunny and crowded day and almost none when the office is closed and empty. Not only does Swegon WISE allow for a good indoor climate, the system is also enabling energy savings.
Learn more about DCV in our energy efficiency guide
The Swegon service team was highly professional in commissioning and with end-user instructions.

Sami Ansio, project manager at the consultancy firm Mikenti Talotekniikka Oy
Comments from our customer
Sami Ansio has worked in the industry of ventilation, heating and cooling (HVAC) for over 20 years. He is very familiar with the centralised ventilation solution selected for Sipoon Amiraali, as many of Mikenti Taloteknikan's projects are designed that way.
- The Swegon solution differed from others in its ease of use. A special thanks to Swegon's service team, for a professional commissioning of end user instruction.
Ansio has worked with other HVAC brands during his career, but was happy to find a complete solution from Swegon in this specific case. Ansio continues:
- I was happy to find the customer's complete request from Swegon, the initial plan was choose units from different suppliers. And further, the energy efficiency of the Swegon GOLD air handlers, reflected in the low SFP figures, was a decisive factor.
Products and systems
Below are some of the products provided in this project