We explain demand controlled ventilation
Demand controlled ventilation (DCV) is as implied, ventilation solutions that manually or automatically regulate airflow to meet the exact need at a given time. If one room is empty, air supply is reduced. If another room is fully occupied, the system will increase the airflow in this part of the building, to make sure the indoor environment is healthy and comfortable. In this guide, we will explain demand controlled ventilation from a few different angles.
Where is demand controlled ventilation beneficial?
Schools are among the building applications with the most distinct changes in occupancy and activity. This guide will later show that utilisation of class rooms are usually as low as 30-35%. However, other building applications, for instance offices and hotels, are facing variable requirements for ventilation, heating and cooling as well. These might also be facing even further changing requirements in the indoor climate since hybrid working models and longer hotel stays are expected as we go forward.
Demand controlled ventilation is also clearly beneficial in premises with different types of activities. A building containing offices, apartments, a lunch restaurant and a gym would face vast economic and sustainable issues if all parts of the building were ventilated as fully used all at the same time.
Energy and indoor climate
As mentioned above, it is unnecessary to supply the same air volumes to rooms when they are empty as when they are crowded. Constant Air Ventilation (CAV) is not only what it says, a constant airflow, it is often a greater supply of air than needed in the normal use of the room. This is to avoid a critically low air supply when the room is fully utilised.
A demand controlled ventilation system is the solution to the above "static" ventilation method. Both are pictured in the graph to the right.
More to know about how an existing CAV system can be upgraded
Learn more in our expert's blog post
One purpose – two different systems
Two different kinds of demand controlled ventilation are sometimes mentioned, variable air volume (VAV) and demand controlled ventilation (DCV). Both systems fulfil the same purpose, but they are best suitable for slightly different situations.
The VAV system adjust the airflow over an operating time but may only be adapted to temperature or air quality. VAV often meets the needs of preschools and smaller schools where the activity is fairly even throughout the day. VAV is normally implied with lower investment costs but provides good energy savings compared to CAV.
The DCV system adjust the airflow over time and allows adaptations to be made on a variety of different factors. It can easily adapt the indoor climate to customer needs, as it allows an array of products to be combined. The investment cost is higher but the long term benefits of energy savings, possible certifications of the building as well as productivity, health and comfort of the ones who live, work and rest in the building are significant.
Read our blog, DCV & VAV - What is the difference?
Get familiar with our Swegon REACT
Advanced, not complicated
The presentation of DCV might so far indicate that the system is complicated, but it should rather be seen as smart. It has been technically well developed to prevent complexity and is usually combined with a user friendly control, just like with our Swegon WISE system.
The basic purpose of WISE is to adjust the indoor climate to the exact level required. It ventilates, cools and heats neither too much – which costs energy – nor too little – which adversely affects comfort, but only as much as is needed. With WISE it is possible to combine high energy efficiency, an ideal indoor climate and a full overview of the entire system.
Read more about Swegon WISE
Economic aspects - investment
Investigations in i.a. schools show how the attendance rate in different types of spaces is generally low, which means that a system that adjusts ventilation and air conditioning according to actual needs can save up to 80% of the fan energy and 40% of the heating and cooling energy. In addition, the system usually requires smaller ventilation units and cooling machines, which reduces the investment cost. This is also applicable to many other types of premises, for example, offices, housing and hotels.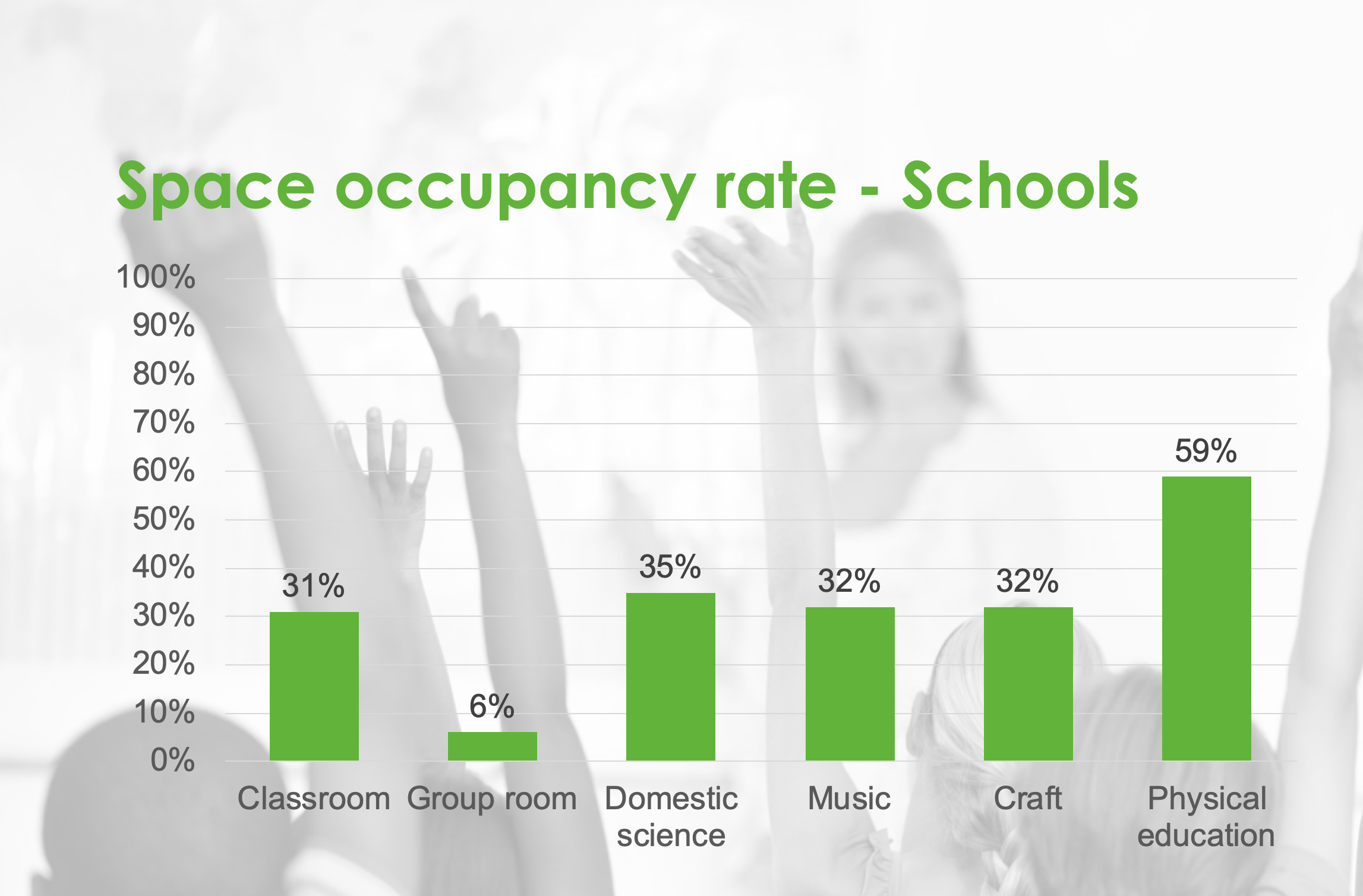 Attendance in the classroom during school hours
TeknDr. Dennis Johansson, Presence in Buildings - Measurements and Estimates, 2010
There are systems that help to keep the energy consumption low, the economic savings high and the indoor climate still excellent. A simpler VAV system may be fully sufficient in smaller projects where the requirements picture is moderate and investment cost a decisive factor. For projects where the expectations on the indoor climate is higher and the building possibly larger there is the DCV system. The latter is required to be certified according to any green or well-being based building program.
Economic aspects - sustainability and well-being
Without mentioning it, it has hopefully been clear throughout this guide that it is not sustainable from an energy or environmental perspective to ventilate at full power around the clock.
Building certifications such as BREEAM, LEED and WELL are with separate approaches driving development in energy efficiency and cost-savings, human health and well-being in a building. It is nearly impossible to accomplish all of the above without a demand controlled indoor climate, and that is why DCV has been acknowledged as required for attaining any such certifications. As our Swegon WISE system is ideal for any project aiming for building certifications as it is a hihgly sophisticated solution for DCV.