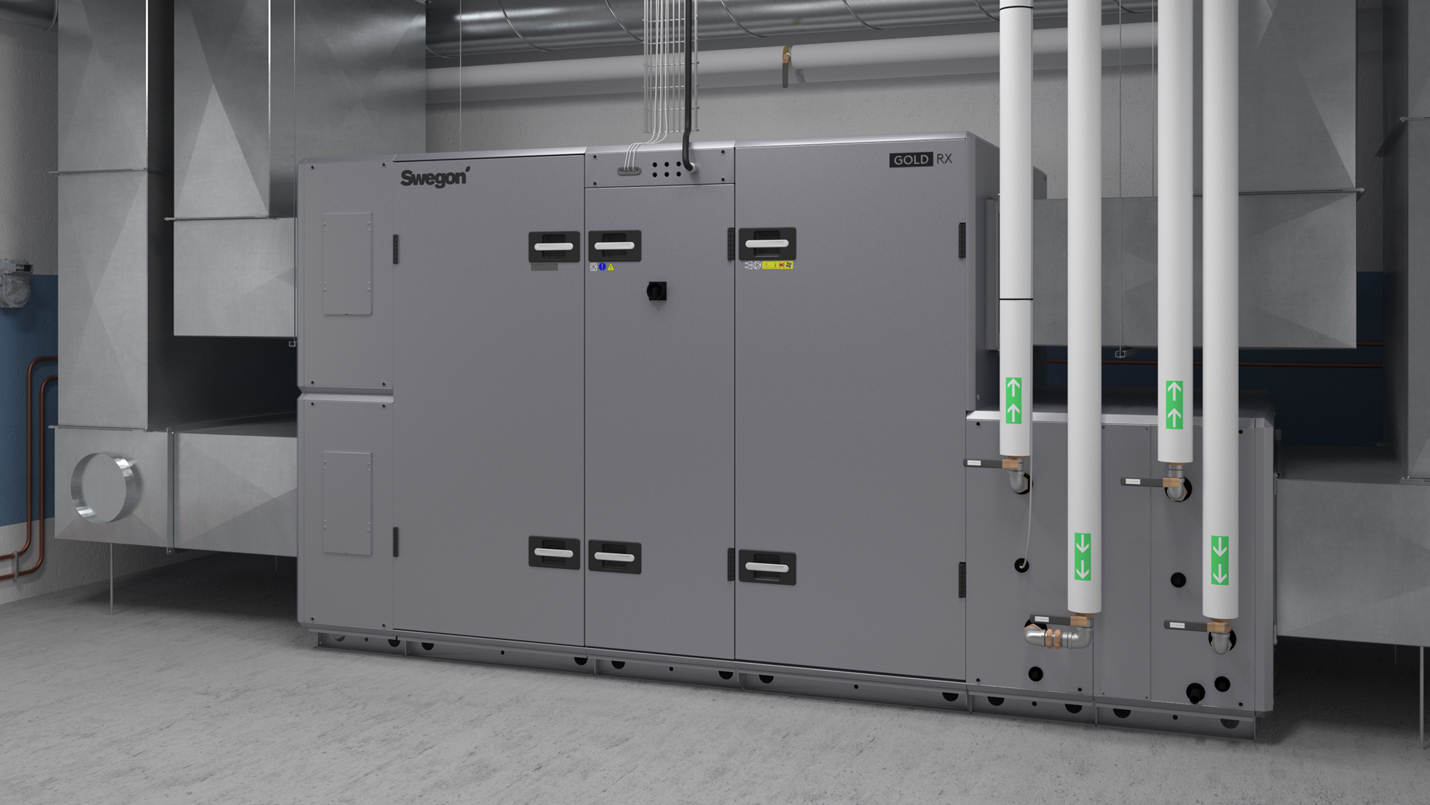 The most energy-efficient air handling unit on the market with its unique, comprehensive and intuitive control system.
GOLD
There is a GOLD for every need
Swegon's GOLD units are designed for comfort ventilation. To ensure superior performance, we design our own components, such as our rotary heat exchanger, fan impeller and control equipment. Commercial or retail construction? Public premises or residential properties? Whatever your segment, there's always a model to serve you best. Our unrivalled expertise and support are naturally included, right from your planning phase and commissioning through to the first actual use of the unit in future.
Simple & smart – IQlogic
A smart system also has to be easy for the user. The IQlogic control system with its award-winning user interface and convenient IQnavigator hand-held terminal makes it easy for you to unlock the full potential of GOLD. Naturally, GOLD is readied for online connection and communication with the main control system. Thanks to our built-in WiFi, you can connect with the unit's control functions via your smartphone or other mobile device.
Web demo IQlogic
This feature allows you to test the control system in the GOLD unit from your internet browser.
To log in, use the following credentials:
User name: local or installation
Password: 0000 for local, 1111 for installation
GO TO ONLINE DEMO
Rotary heat exchanger – GOLD RX
Units with rotary heat exchangers allow you to achieve the ultimate in temperature and annual energy efficiency; our patented heat exchangers with turbulent air flow being uniquely effective. This, combined with the short installation length typically makes them the first choice for most applications. The turbulent flow in the rotor and the Carry-Over Control feature makes them ideally compatible with VAV and DCV system applications. The rotors can be surface-treated in different ways. For example, with the RECOsorptic sorption technology coating for enhanced humidity recovery, or epoxy for heavy-duty environments. GOLD RX is designed to minimise the risk of air and odour transmission between the air flows.
Renovation projects often involve the replacement of old air handling units in small plant rooms. To meet today's demands for energy efficiency and to comply with the ErP Energy directive, a physically larger air handling unit is required, but it is seldom possible to change the size of the plant room.
This is where the new GOLD Top range comes in, as it is designed to meet energy efficiency requirements without the need to change the size of the plant room. The new L -concept allows the unit to be connected vertically and horizontally. This means that larger units can be installed and maximum utilisation of space inside the plant room is ensured.
Counter-flow plate heat exchanger - GOLD PX
A counter-flow heat exchanger is an excellent choice for applications in which you want to separate the air flows. GOLD PX is available in two versions depending on whether your priority is superior temperature efficiency or low pressure drop.
The RECOflow heat exchanger has a high air-seal class, which minimises internal leakage. This makes the GOLD PX an excellent choice for residential properties. Cold weather and humid extract air pose a risk of frost formation in the heat exchanger. To prevent this, our GOLD PX integrates RECOfrost – the best anti-freeze protection on the market. This unique feature uses the latest data from the unit to provide adaptive and demand-controlled adjustment for optimised energy recovery. RECOfrost adjusts the pressure drop across the heat exchanger in periods when full recovery is not needed, e.g. in spring and autumn. The result is superlative temperature efficiency and energy balance, in any climate.
Read more about GOLD PX
Coil heat exchangers – GOLD CX
Coil heat exchangers use a hydronic circuit to transmit energy between the extract air and supply air, which, like the GOLD PX, minimises internal leakage and results in a very space-efficient installation. The GOLD CX can attain higher air flow capacity than the GOLD PX. The system can be supplied with its hydronic circuit factory pre-filled, vented, calibrated and commissioned ready for use. The heat recovery efficiency is adjusted variably for optimum occupant comfort, and the circulation pump is demand-controlled for enhanced energy recovery. For cold-weather applications, the risk of frost formation in the GOLD CX/SD coil is averted by effective anti-freeze protection. This protection is based on continuous monitoring of the fluid temperature in the exhaust air coils combined with the humidity level of the extract air.
Read more about GOLD CX
Supply air and/or extract air handling units – GOLD SD
The GOLD SD is a complete air handling unit with separate supply and extract air components, supply air and extract air fans as well as supply air and extract air filters as optional extras. The unit components can also be used as stand-alone supply air fans, extract air fans and for single direction air flow. The unit can be fitted with a coil heat exchanger in which the pipework and shunt unit are available as optional extras.
Read more about GOLD SD
Why GOLD?
Easy to plan, install and commission
World-class energy efficiency
Minimal installation space required
Fully integrated control system with unrivalled functionality
Easy to adapt functionality for altered requirements
Premium-quality adaptable section platform
The AHU comes with a QR code for simple downloading of documentation to a smartphone or tablet
120,000 installed units are proof of concept
GOLD has existed – and proved its worth – for more than two decades. To date, 120,000 GOLD units have been installed in tens of thousands of buildings across five continents.
Optional Extras
With the right optional extras, you can gain even more functionality and benefit from your air handling unit. In other words, you can easily further customise GOLD to your requirements.
All-in-one combined air handling unit and reversible heat pump
The result is fresh air, heating and cooling in an unrivalled slimline and energy-efficient design. Planning is simplified by the fact that we have already done the integration between the heat pump and the air handling unit for you mechanically and in terms of control. The compact dimensions also save you valuable space. Installation is simplified if you opt to have the unit factory pre-filled, tested and ready to run. Commissioning is fast and smooth, as all the functions are controlled directly from the GOLD unit's intuitive hand-held terminal.
Integrated chiller
The COOL DX/COOL DX chiller was originally designed as an integral component for GOLD air handling units. All the equipment is built into the unit, which you dock straight onto the GOLD unit or install as a stand-alone unit connected to the air handling unit. COOL DX is based on a closed circuit filled with low-volume refrigerant. COOL DX provides cooling with a minimum of effort invested in planning, purchase specifications and installation. The GOLD air handling unit has ready-to-use cooling functions for controlling and adjusting the COOL DX. This also includes communication via an online interface or with a master control and monitoring system. COOL DX is available for end panel or top panel connection.
Miruvent
A power roof fan with smart solutions and intelligent control options, available in various sizes and many flow variants.
Accessories
Swegon offers a wide range of accessories to cater for all your requirements.
Insulated – These accessories can be docked straight to the unit to save time, and provide for lower pressure drop, which reduces fan energy consumption.
Uninsulated – These accessories are available with a standard connection or alternative connection with a larger cross-sectional area and lower pressure drop.
Certification and conformity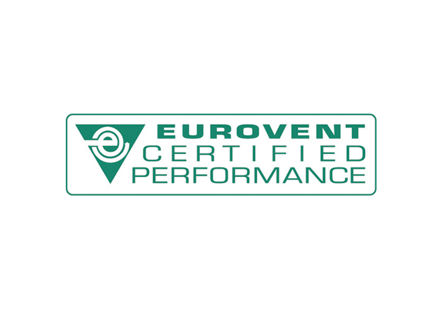 Eurovent
All GOLD air handling units are certified by Eurovent.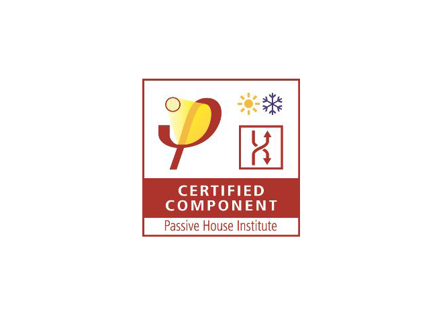 Passivhus
Swegon GOLD RX (sizes 04-35 and 50) is certified by the Passive House Institute for its high energy efficiency and heat recovery. GOLD is unique in being the only certified ventilation unit for high air flows (<9,000 m³/h).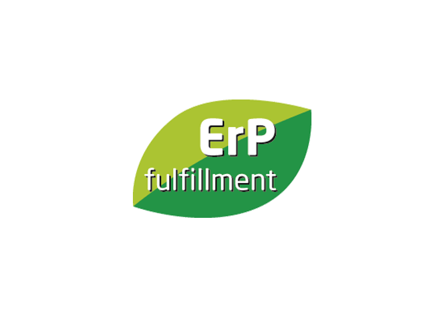 Ecodesign
All GOLD air handling units conform to the requirements set out in EU Ecodesign Regulation n° 1253 for Ventilation Units.