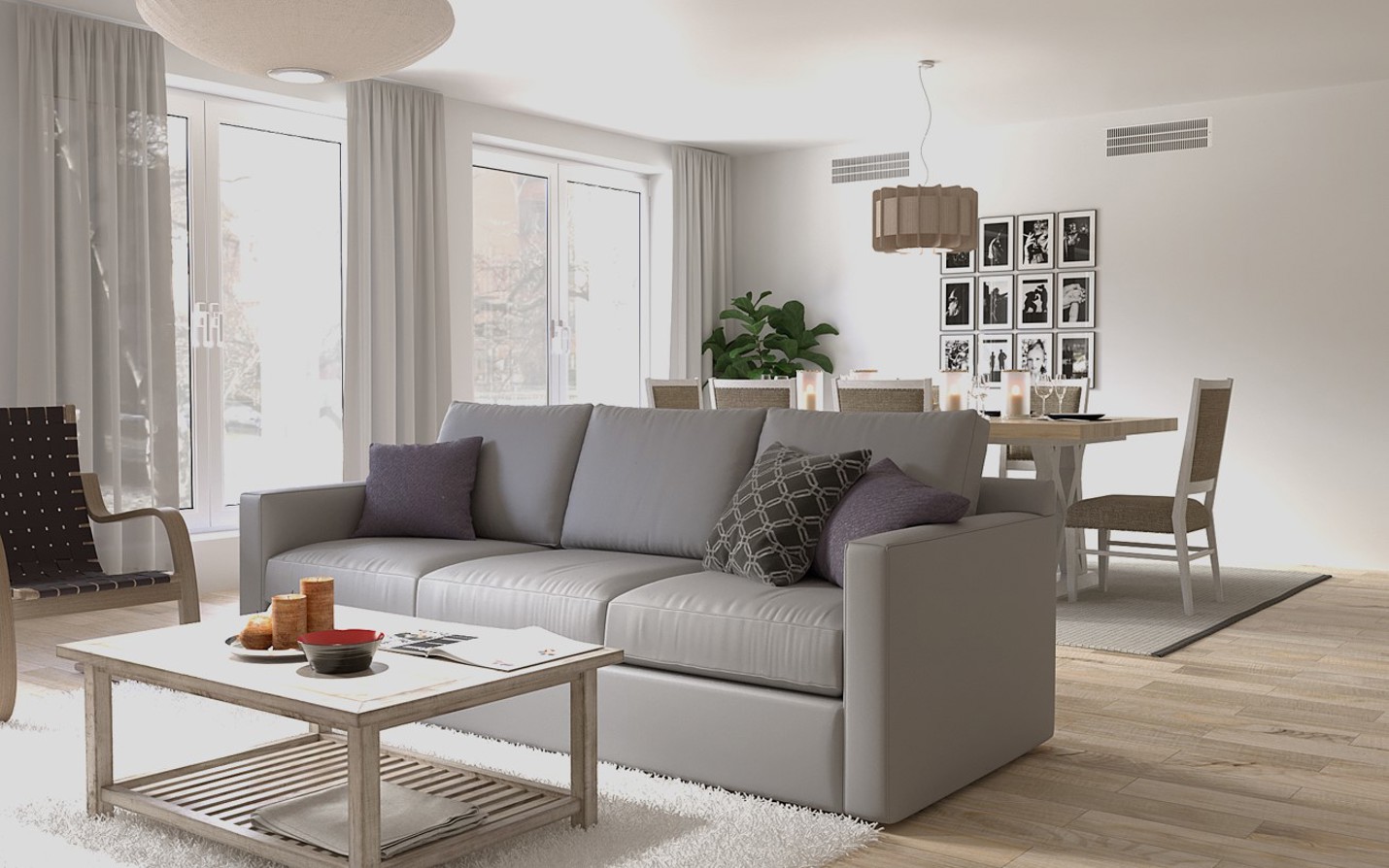 CASA CLIMATE
System solution for
heating, cooling and ventilation
Benefits
CASA Climate simplifies the design and building process because the different HVAC components work seamlessly together and are provided by one trusted partner.
For residents it offers optimal indoor climate that can be easily controlled from one interface and so that different systems don't conflict with each other.
For building owners CASA Climate guarantees energy efficient and economical heating, cooling and ventilation for the whole lifetime of use.
CASA Climate CCF
Comfort module for heating, cooling and ventilation
CCF inside the apartment
CASA CLIMATE CCF is a waterborne comfort module that is connected to the apartments ventilation system and the buildings hydronic circuit. It provides fresh supply air, heating and cooling to the apartment. Each apartment can have several room units depending on the need. CCF uses the heating and cooling energy from ground source or district heating/cooling to provide energy-efficient climatization with individual temperature control for each room.
System in the building
CASA Climate CCF is connected to the hydronic circuit for cooling and heating energy and ventilation system for supply air.
In decentral ventilation system CCF is connected to an apartment placed Swegon CASA ventilation unit and regulated with CASA Genius control.
In central ventilation system CCF is connected to a centrally placed Swegon GOLD air handling unit.
Fresh supply with recirculated room air
Supply air volumes are primarily designed to provide fresh air in to the apartment. But if only supply air flows are cooled/heated, the air volume is not sufficient to control room temperature. CCF multiplies air volume by recirculating room air, mixing it with supply air and providing significantly higher volume of cooling/heating airflow in to the apartment.
The supply air from ventilation unit is supplied to the CCF creating positive pressure inside the unit. The positive pressure pushes supply air though
nozzles with high velocity. The high velocity on the other side creates negative pressure on the other and this generates induction of room air inside the
unit.
The room air is sucked in through an air grille and it flows through the coil where it is heated or cooled if required, before it mixes with the supply air
and is discharged back into the room.
Designed for apartments
CASA Climate CCF is designed to fit the tight space requirements of apartments. Compact size and multiple duct connections enable various mounting options and climatization for all rooms. CCF comfort modules can be placed inside furniture or in suspended ceiling providing fresh air, heating and cooling to the whole apartment.
Placement in furniture
CCF can be mounted inside a fixed furniture such as the upper or floor section of kitchen cabinets or wardrobe. This is fantastic way to save room and utilize empty space that is not in use.
Placement in suspended ceiling/wall
CCF can be placed in the suspended ceiling of a bathroom or other connected rooms. This way the room units and ventilation unit can be placed in the same room while providing ventilation and climatization to all surrounding spaces.
Temperature for each module is regulated separately enabling different temperature settings in different rooms (for example 18 C° in the bedroom and 22 C° in the living room).
Ideal for modular building
With CASA Climate the comfort modules and the ventilation unit can be fitted inside a single room. This enables module manufacturers to premanufacture the HVAC units inside one building module and just lift everything in place with one lift at building site. This makes installation faster and speeds
up the whole building process significantly.
See how bathroom modules with CASA Climate are installed
HVAC today
3 room products (radiator, AC and diffuser) à multiple controls
Risk for simultaneous heating and cooling
High sound
Wet cooling, condense
High maintenance
CASA Climate
1 room product - 1 complete system - 1 control
Optimized climate without conflicts
Low energy consumption
Silent, draft free
Dry cooling, no condense
Low maintenance