What does Swegon offer?
At Swegon we work continuously to develop our products and services to be at the forefront of current developments in smart buildings. 

Swegon as a partner in the smart building
At Swegon we have a variety of different solutions and products that are fit in irrespective of the level of the smart building. We offer everything you need to create a smart and invigorating indoor climate such as demand-controlled systems, air handling units, chillers and heat pumps– which all can contribute with functions and data in the smart building.
When we develop our products, systems and services we try to understand our customers and the needs of their properties. How will the building be used and work? How should it be managed and developed? What challenges stand in the way of the perfect building - what can we help our customers with?
A smart building consists of much more than HVAC and the systems and functions in the building must be able to work together. 
Our starting point is always the human needs in the room. In the smart building people need to understand and work with the smart functions to feel good and comfortable. 
At Swegon we are used to working in both large and small projects with a number of different partners to jointly create energy and resource efficient properties.
Create a smart indoor climate system
Here you will find a selection of our smart products. If you would like to know more about them or our other products, please contact your local sales team.
Swegon INSIDE
As said in the previous section, data from inside a building is used to both attend ongoing system processes and to manage the quality of the indoor environment, for instance lighting, shades, indoor climate and more.
We have developed a range of services under the name of Swegon INSIDE, targeted to building technicians, property managers, plant supervisors and the like. Each service is carefully designed to help the above to understand and proactively monitor and control an indoor climate solution, hence they will be able to care for a building and ensure an energy-efficient and reliable operation. As a complement, these services are also developed to enable people inside a building to visualise and adjust the indoor climate to a comfortable level that allow them to be at their best today and tomorrow.
Learn more about swegon INSIDE
Together we become smarter
Alone is not smart. Making a building "smart" is a part of the meaning that products and systems working together. At Swegon we are experts in HVAC. Yet we don't know everything - together with other parties we work to achieve common synergies and to drive the development of smart buildings forwards.
Read more below about our different types of collaborations.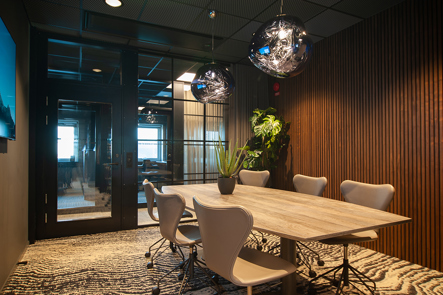 Blåa Huset, Malmö, Sweden
Blåa Huset is an office building in southern Sweden. The property owner as well as tenants have been a part of the development of chosen services within Swegon INSIDE.