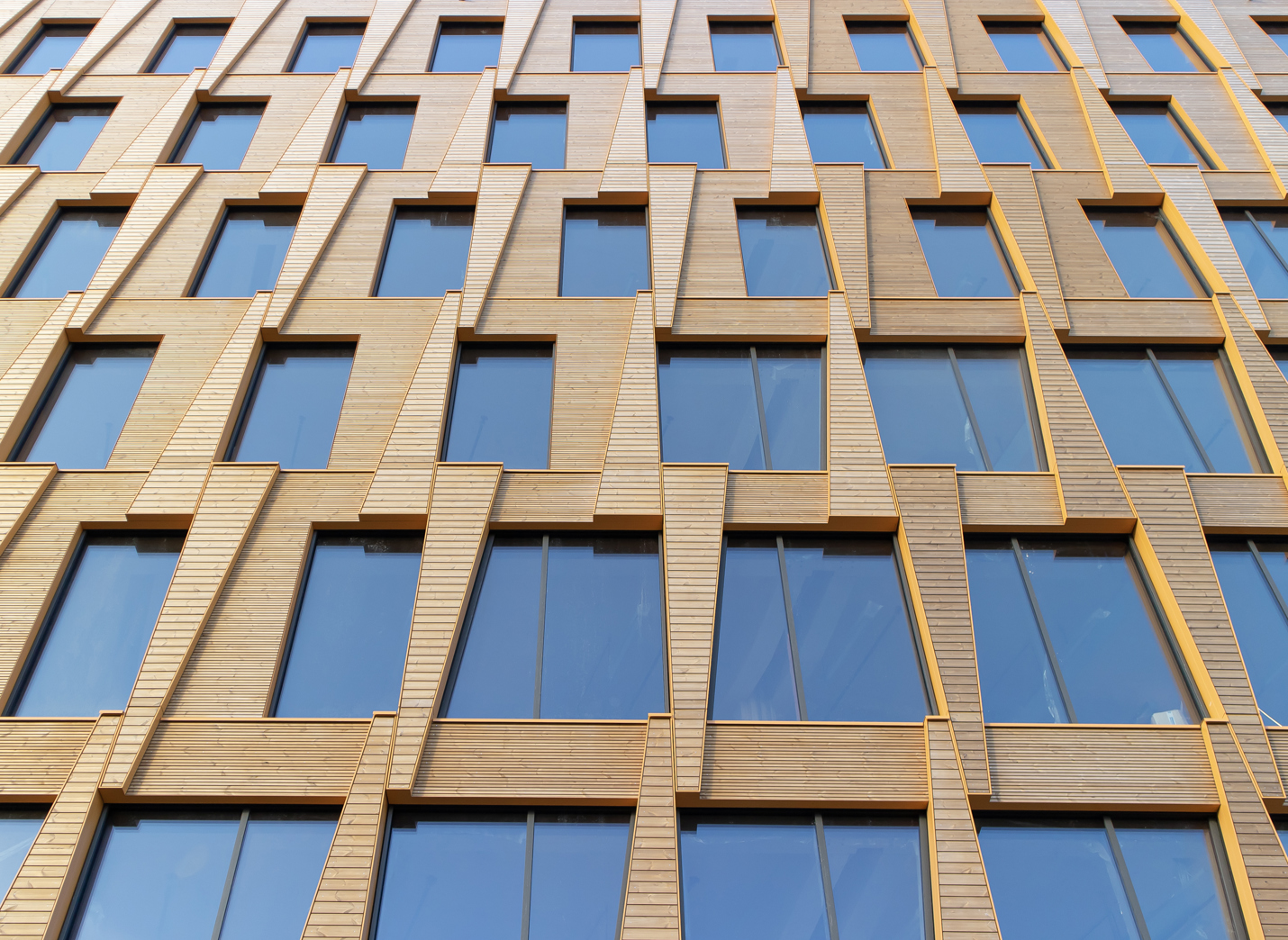 A unique BREEAM certified building in solid wood
Credits all images: Lund+Slaatto Arkitekter
Wooden construction
Valle Wood is a unique office building and was Norway's largest commercial building in wood at the time when it was built. It was built with a combination of spruce and pine, and the glulam columns and beams are Norwegian-made. Fun to know, even the elevator shafts and stairs between the floors are built in wood.
Valle Wood is located in Valle, a growing area in Oslo. The building is one of three - Valle View, Valle Vision and Valle Wood - in this growing area. Together they hold 60 000 m2 of offices and commercial space and with its unique design and choices of materials the building was a finalist in one of Norway's greatest architecture awards in 2019.
Flexible spaces requires flexible solutions
Valle Wood consists of flexible office concepts, with space for co-working, start-ups, meeting rooms, conference facilities and room for various catering and service businesses.
In a time with high demands on capacity available for rapid restructures, it is important that an office spaces can be changed. Being flexible in this way requires a flexible indoor climate system which can be adapted to the needs and layout of the building. Valle Wood has the potential to adapt the premises to different needs in regards to size, activity and layout. The rooms and floors can easily be divided for multiple tenants and this is where Swegon's demand controlled indoor climate system, WISE, is advantagous. Swegon WISE can easily be adapted to a new layout in a building, without the need to change any cables or move components. With the WISE-system's wireless communication it is easy and fast to change the setup.
Learn more about Swegon WISE
"The choice of indoor climate system was made in an evaluation process with the client, contractor, technical partners and consultants. Swegon WISE turned out the best in terms of functionality, needs and best solution for the project."

Audun Sylten, Ventilasjonsentreprenør Bjerke Ventilasjon AS
Environment and sustainability
Wood constructions are growing in popularity in the building industry. No wonders, there are several benefits of building in wood. It is a lightweight construction material and it has a low CO₂ footprint as the natural material binds carbon dioxide. A wooden building requires less energy for heating and cooling, and in the case of Valle Wood it has a measured 40% lower energy consumption than a "standard" office building of the same size. Wood also contributes to a stable indoor humidity level, and all in all, this leads to better health and productivity of the people inside.
Last but not least, Valle Wood is certified in accordance with BREEAM Excellent, the world's most demanding environmental certification standard as it takes a holistic view of the building's entire eco-cycle.
We can help in a certification process
The collaboration with Swegon has been very good throughout the whole process.

Audun Sylten, Ventilasjonsentreprenør Bjerke Ventilasjon AS
Products
Some of the products provided to Valle Wood