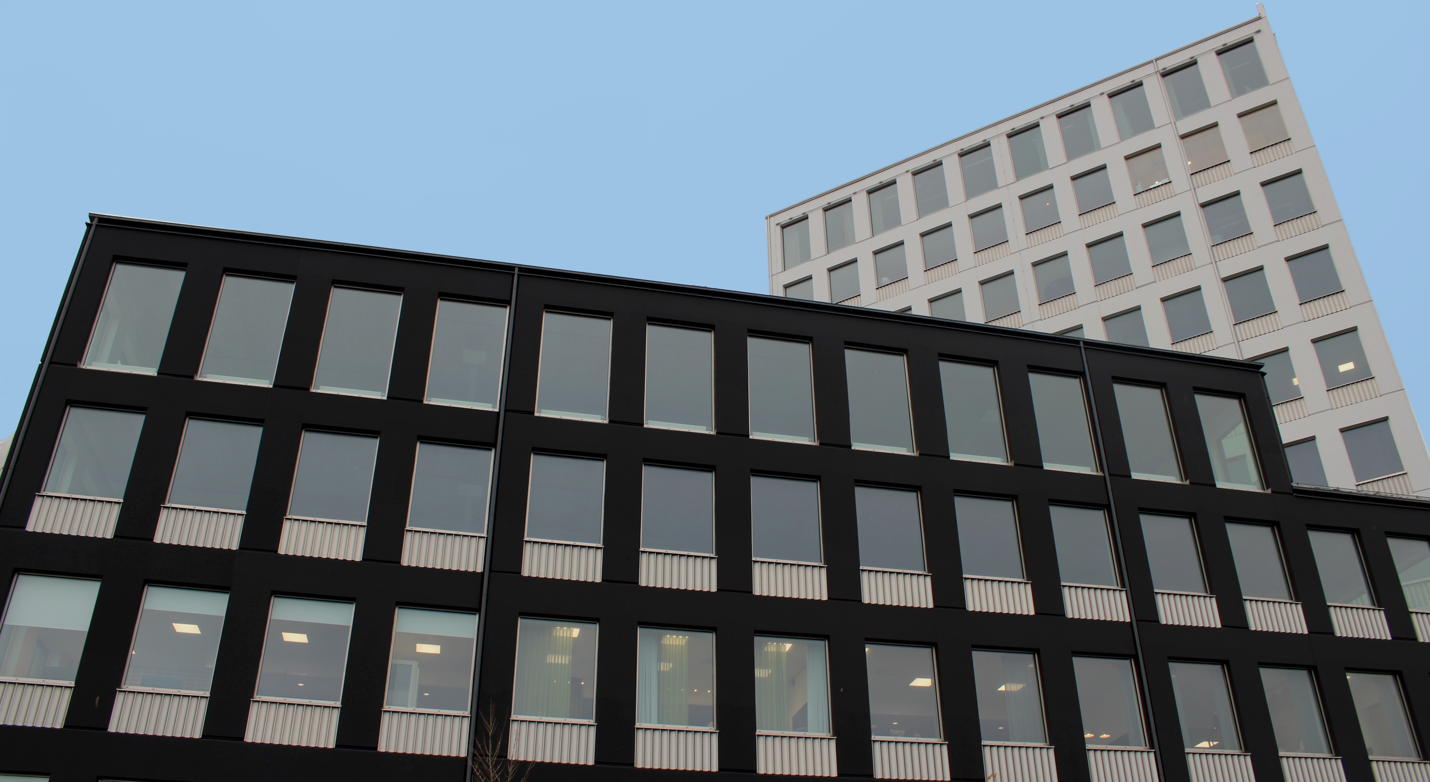 A royal office with excellent comfort
Drottningen in Helsingborg, Sweden
Drottningen, which means "The Queen" in Swedish, is a new green office building in Helsingborg, Sweden. The building is a start of the transformation of the area called Drottninghög. It is about to turn into a more accessible and vibrant zone of the city. This will include new modern living areas and several new office buildings, the will create more job opportunities in the neighbourhood as well as new meeting points including wining and dining. Drottningen is one of the taller buildings in Helsingborg and it has an excellent view from the top floors.
A flexible office building with green thinking
The building is mainly aimed for offices. With about 6000 m2 and 11 floors Drottningen offers plenty of flexible office spaces. The floors have an open layout, big windows with plenty of daylight and great comfort. Swegon has delivered several solutions and products to Drottningen to ensure a flexible and comfortable indoor environment.
The building is made with environmental thinking in focus. For example, beehives on the roof which produce local honey, plenty of charging stations for electric cars, green roofs and with the classification Silver in the Swedish environment certification system Miljöbyggnad.
High demands on flexibility and energy efficiency
The construction has been carried out as a partnering project where the property is being built by Peab (one of the leading construction companies in the Nordics), Helsingborgs Hem (a housing company owned by the city of Helsingborg) and the Helsinborg-based company Stenströms Skjortfabrik (Swedish shirtmaker). The latter mentioned is growing and needs new office and warehouse premises in this southern part of Sweden. In addition several floors are rentable for other businesses.
The project had two important demands:
Flexible solutions to meet tenants different requirements and being able to adapt to future needs.
Low energy consumption for sustainability and cost efficiency.
Swegon got the opportunity to deliver on these requirements.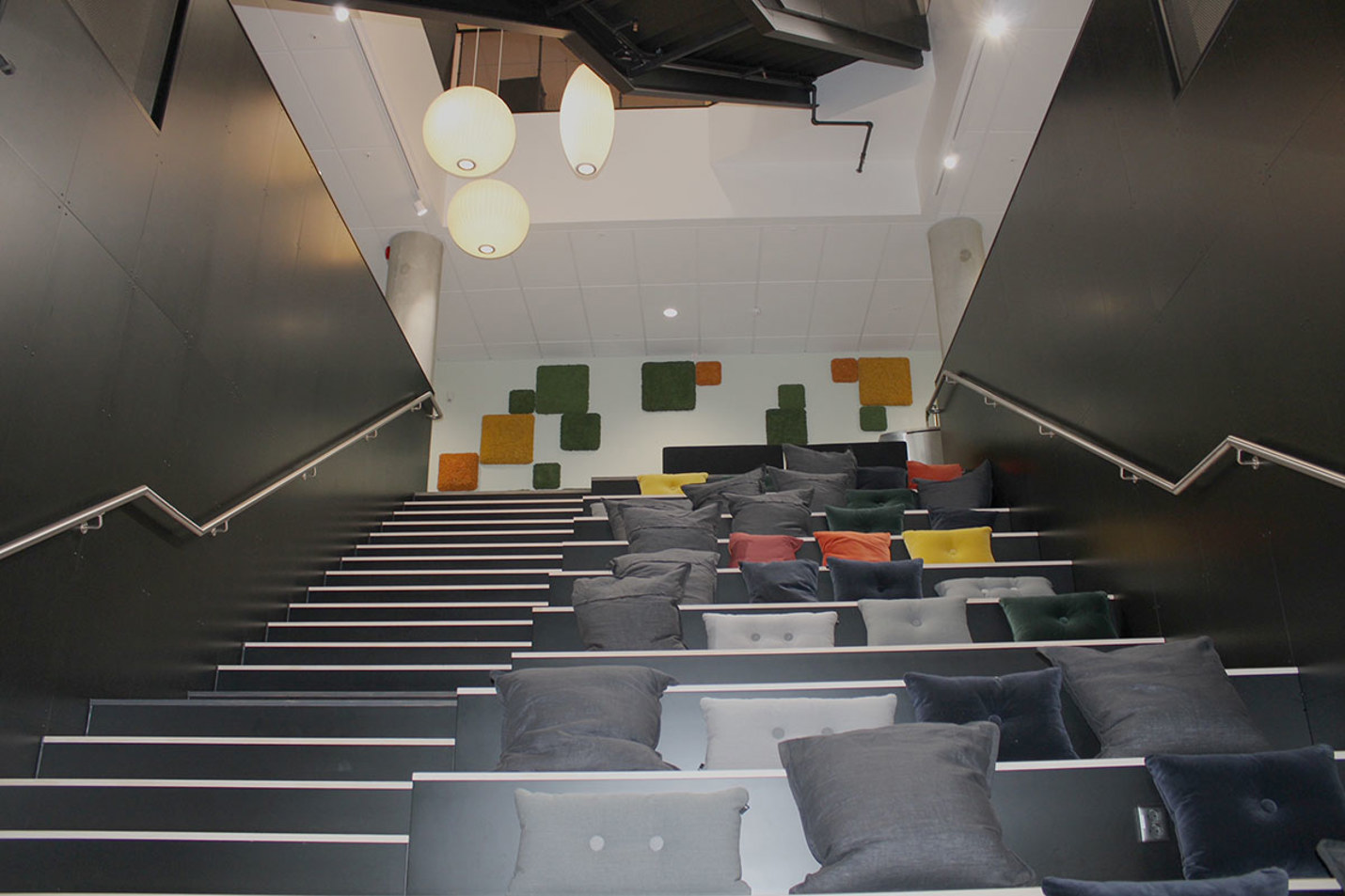 Flexible office spaces with Swegon WISE
One of the main challenges of the building process was to make it flexible and allow the tenants to be able to adapt the office premises to their needs . With this requirement comes the need of a flexible climate system. Swegon's demand controlled indoor climate system, WISE, plays a significant role in the final solution.
The rooms and floors can easily be divided up for multiple tenants to use. Swegon WISE can be adapted to new floor- and room-layouts in a building without the need to change any cables or move any components. Thanks to the system's wireless communication it is easy and fast to change the setup and provide a good indoor climate for the new layout, tenant or activity pattern.
Learn more about Swegon WISE
Great comfort with sunscreen control
Drottningen really stands out when it comes to comfort. The office spaces are large, well decorated and have big windows which provide excellent views and plenty of daylight – which is important for our well-being. But large windows can also create issues in terms of the indoor climate. When it's too sunny the indoor temperature can get too high and the sun rays can create glare that hurt our sight and concentration. Here, the Swegon WISE system comes with internal sunscreen control which makes it possible to control the indoor curtains and allow for an optimal indoor climate.
Swegon delivers high energy efficiency
Swegon WISE together with Swegon GOLD air handling units provide excellent energy efficiency. This as the basic purpose of WISE is to adjust the indoor climate to exactly the level required. It ventilates, cools and heats neither too much – which costs energy – nor too little – which adversely affects comfort, but only as much as needed.
In addition, our Swegon GOLD RX uses a rotary heat exchanger which allows for an optimal temperature and energy efficiency. The recovery of heating or cooling energy is demand-controlled by the WISE system. The same goes for our Swegon GOLD PX which uses a counter-flow (plate) heat exchanger. This air handler is an excellent choice for applications where separate air flows are required. In Drottningen the GOLD PX is used on the 11th floor in the restaurant area to minimize odour transfer to conference rooms. GOLD RX is used in the rest of the premises.
Products
A selection of products and systems provided to Drottningen in Helsingborg, Sweden