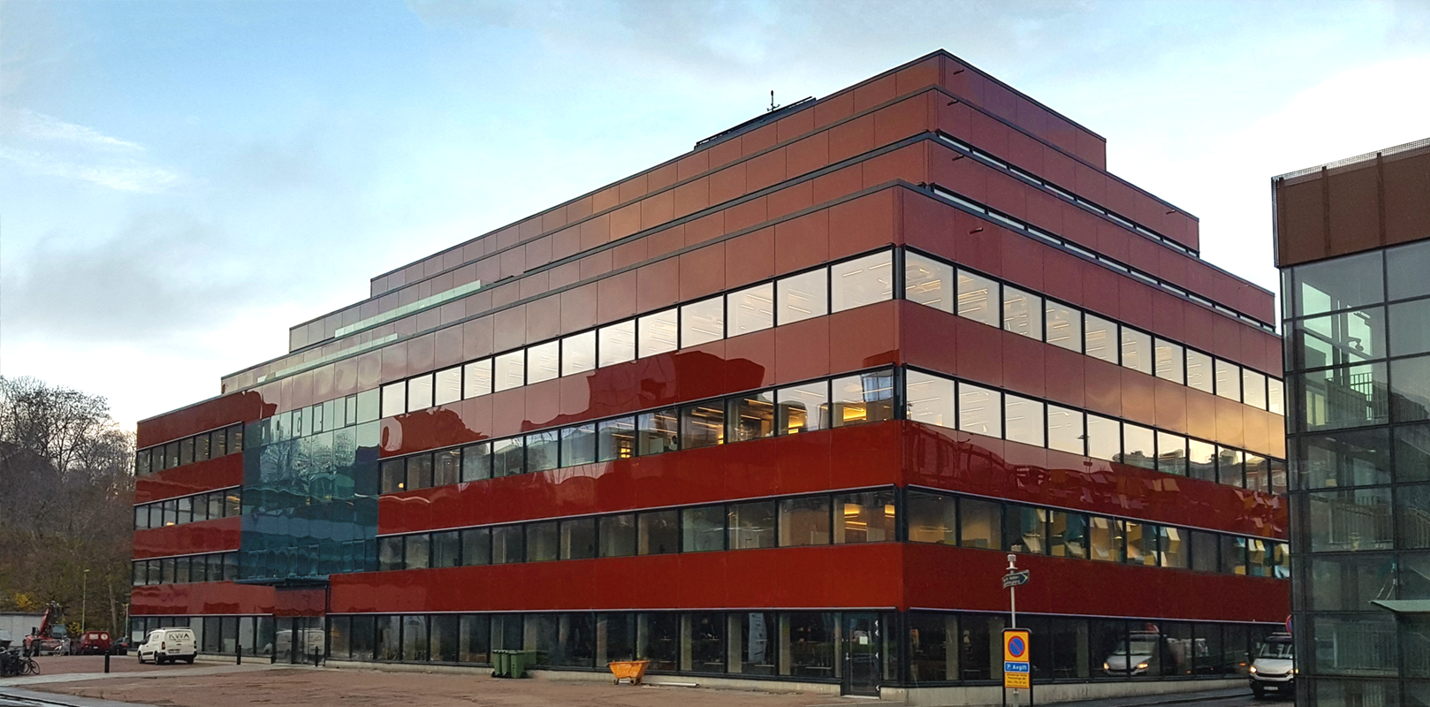 A building where nearly everything is unique
A Working Lab at Johanneberg Science Park
The building called A Working Lab at Johanneberg Science Park in Gothenburg stands out from the crowd, both in relation to the building process and how it appears. In 2019, Akademiska Hus opened its doors to its innovative office building, also known as an innovation arena. The 11,700 m2 building accommodates offices, co-working environments, conference areas and meeting rooms, a makerspace as well as a Learning Lab. This is where exchanges of ideas and knowledge between academia, business community and social actors occurs on a daily basis.
With a construction of timber, the A Working Lab stands out and has contributed to a new sustainable framework for buildings. As several innovation projects have been in progress during the building process, it can be described as anything but traditional. The wooden construction has been built entirely without a weather tent, which has contributed to its challenges. At the same time, measurements have been taken of the CO2 footprint, the storage of cold with PCM technology and electricity supply with DC networks. Research has been conducted on how to build good acoustics environments in large buildings with wooden joists.
It is an innovation house where live tests and research are conducted, both in the construction phase and today during use of the building.

Olle Nyström, Akademiska Hus
Demands on the indoor climate
Based on the set requirements, Akademiska Hus sought an indoor climate solution that was flexible and was able to meet the high ambitions agreed to be able to reach the desired environmental certification. When these requirements were met, as well as financial and technical demands, Swegon and our system for a demand controlled indoor climate, Swegon WISE, were chosen for this innovative building. WISE is an all-inclusive indoor climate system with flexible adaptations for achieving a perfectly balanced comfort level indoors while also minimising energy consumption related to ventilation, heating and cooling.
Learn more about demand controlled ventilation
Tradition meets innovation
It became clear during the journey that innovation processes and construction projects are based on different logics, a good lesson to learn. The differences between the two requires not only boldness and patience, but also a great commitment to keep up with the twists and turns to not risk limiting the spirit of innovation.
The building is erected in modules and, hence, active diffusers have been selected to facilitate for future adaptations or divisions. These products were also advantagous from a work perspective as the building process progressed.
Unexpected challenges
It is not uncommon for challenges to come to light during a building project such as this one. In terms of A Working Lab it became evident that space in the suspended ceiling was limited, which in turn made the installation difficult. However, the relatively low weight of the Swegon WISE diffusers came to help during the installation process, which also made it possible to save time.
Get familiar with Swegon WISE
To lift 200 diffusers is extremely tiring. So the fact that the weights are low of these ones is positive.

Mikael Holmstedt, Ventab
Flexibility with wireless connections
This is the first time anyone has attempted to tackle a project such as this, so naturally a number of questions came up along the way. As implied previously, flexibility was an important factor in order to be able to follow the innovation process that was in progress. That in turn affected planning.
It was also unclear who the tenants would be, which resulted in the building having to be planned as things moved forward. This is something that our Swegon WISE is perfectly suited for as the wireless connection contributes to a flexibility that enables easy adjustments or modifications, also in the future. For example, it is possible to add more sensors without the need of breaking up a complete Modbus system and readdress all products to new assignments.
Close collaboration throughout
In this kind of project, it is important to participate at all times and be involved in the developments that happen along the way. It requires good cooperation to get everything togeother, which Akademiska Hus as well as we at Swegon believe has worked extremely well in the case of A Working Lab.
In order to ensure a smooth work process, Swegon has provided the same technicians who have not only participated in commissioning, but who have also been available after the work was done. When issues, questions or changes have come about, it has been an advantage to be able to speak to the ones who were involved during the project and who are familiar with the building.
Swegon's technicians have been extremely helpful and the collaboration with Swegon has been great.

Olle Nyström, Akademiska Hus
Gold level in the Swedish environment certification system Miljöbyggnad
One of the focus areas for this building was to reduce the climate footprint. The wooden house construction contributes to a minimal CO2 footprint and the solar cells on the roof provide environmental friendly electricity. These factors, together with several others, have contributed towards A Working Lab in Johanneberg to meet the stringent sustainability requirements that apply for Miljöbyggnad Gold.