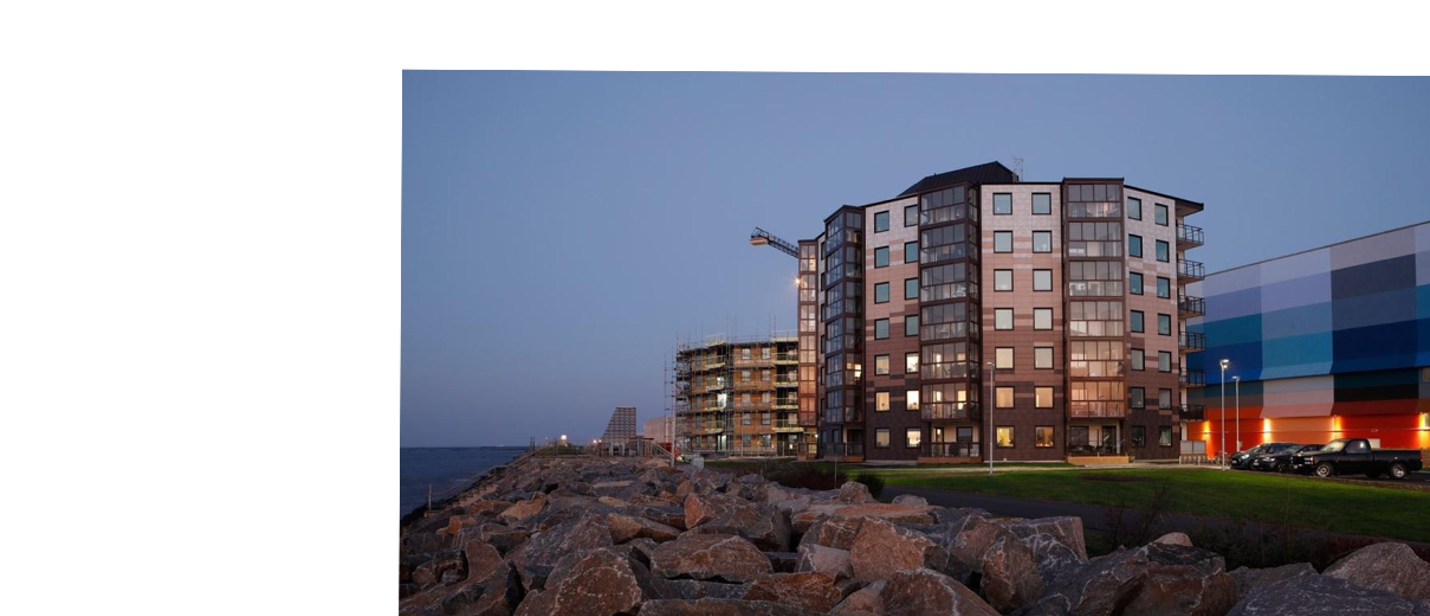 A fresh breeze with living by the sea
Bacchus Falkenberg
Bacchus is the start of a new, living district in the Swedish town of Falkenberg. It is being built on an artificial peninsula once created to produce and store Sweden's needs of wine and liquor. The plan is for a total of 140 contemporary apartments in 4 buildings in a unique location by the neighboring sea. In addition, a brand new hall for paddle tennis is being build. Bacchus symbolizes an innovative Falkenberg.
Stable indoor climate regardless of the weather
The apartment buildings in the new district of Bacchus were designed with the sea as a source of inspiration. The sea breeze can be soothing and relaxing – if you're outdoors. Once indoors, however, you need a stable climate with low energy consumption and maximum comfort. Living right next to the sea can often mean drastic changes in the climate, which in turn places high demands on the climate systems of the residential buildings. The art is to maintain a perfect indoor climate regardless of weather.
Another challenge was the rebuilding of an older building into a hall for paddle tennis which meant that a new solution for ventilation was required. If the fan rooms are small and the entryways are narrow, as was the case here, it is important to find the right competence and the right products.
Surface-efficient units with high capacity
In the apartment buildings, a centralized air-to-air ventilation with constant airflow was installed. This was to get a balanced ventilation with reduced risk of draft and sound. The combination of good products, the right price and well-functioning collaboration is difficult to beat. Sometimes, situations arise where this becomes extra clear.
For example, the small fan room and the narrow transportation routes in the paddle tennis hall required something extra. Swegon's GOLD unit with it's surface efficiency and capacity meet most demands, and so too in this case. The possibility of dismantling the unit, lifting it in parts and then reassembling it in place, while maintaining the CE-marking, is a big advantage during challenging projects. It turned out to be crucial this time as the unit could be installed without having to demolish the outer wall of the building.
Customer's needs in focus
Swegon got to participate at an early stage and then from project start to commissioning. Many site visits were made together with the customer to ensure that all requirements and needs were met. During the visits, measurements were made and we began planning for the difficult route to the paddle tennis hall. Thanks to preliminary work, we were able to identify where the major challenges existed and present proposals accordingly. Swegon's technical department could then support during installation and commissioning, which gave full control in all stages. A solution with surface-efficient and high-performance units, high operational reliability and with the customer's needs in focus – That is Swegon's way of working.
Get help from our guide in your housing project
Products
A selection of products used for Bacchus Falkenberg.