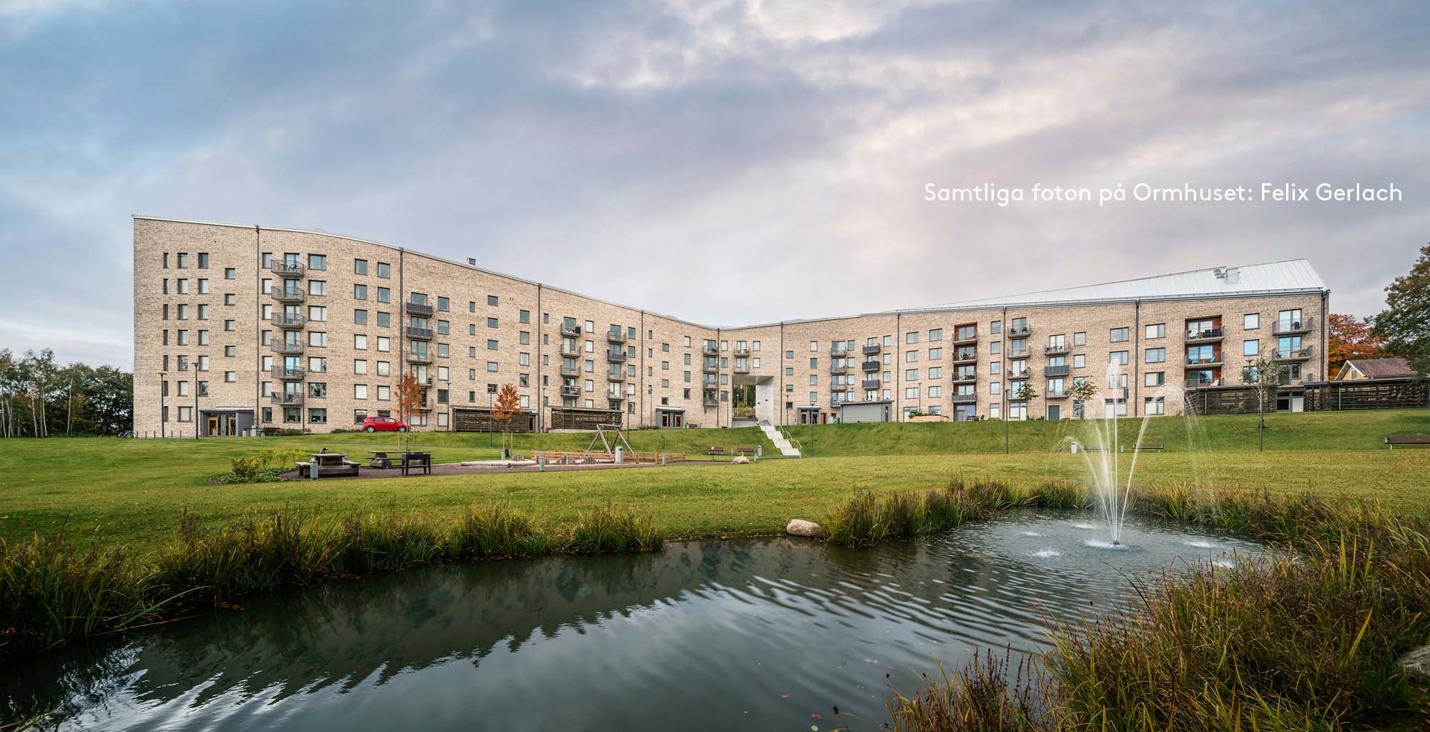 Indoor climate with a customised solution
Ormhuset in Jönköping, Sweden
Strandängen is a new city district, just a short bikeride from central Jönköping, located on the western shore of lake Vättern. The area is under development and is estimated to be completed in 2030. One of the initial buildings constructed at Strandängen is Ormhuset, here tenants have aldready moved in. This elongated building of eighty apartments, was designed by Tengbom arkitektkontor and built by Bostads AB Vätterhem.
A sustainable urban distric with a wonderful view
In addition to the 1,100 homes that will be built in the coming years, other amenities are also planned for in the neighbourhood, such as gyms, restaurants, grocery stores and smaller shops.
Sustainability is key in this development project and the propery owner, Bostads AB Vätterhem, emphasizes that it is sustainability seen from the perspecitives of cultural, social and ecological values for the residents. With that in mind, sculpture parks, recreation areas, solar panel-covered roofs, e-bike rentals and grow boxes are thought of in the project. With the lake right nearby, an open-air swimming-bath is also arranged for in this emerging urban district.

All photographies: Felix Gerlach
Custom designed cooker hoods and supply air diffusers
There were two main challenges in terms of ventilation in this project.
The customer requested a cooker hood with excellent ability to extract cooking odors at low flows, this in order to be able to utilise a constant flow ventilation for the entire building, and still achieve a balanced ventilation in the apartment. The building was pressure tested and had a leakage flow of 0.17l/s/m² enclosure area, meaning cooker hoods that force the air flow would not be a possibility.
In the same project, Vätterhem requested an aestheticly attractive supply air diffuser adapted to Ormhuset's architectural design.
Developments of Swegon DOMO and TANGO
Our Swegon CASA Tango cooker hood was developed, in collaboration with Vätterhem, to become a Free Flow product. The adjustments made to the product made it suitable for Vätterhem also in many other of their projects. It is used in new-builds as well as in renovation projects.
An example, about 200 apartments had an undersized duct system which caused limitations for forced flows in some of the apartments. The CASA Tango cooker hood suits these appartments very well.
In order to do a proportionate air adaptation, the Swegon DOMO supply air diffuser was improved. Today, it delivers what was expected in terms of air flow and does also correspond to the customer's requirements in terms of aesthetics and design.
Learn more about our products for residential ventilation
The tenants at Strandängen have a well functioning HVAC solution thanks to the cooperation between Swegon and Bostads AB Vätterhem. It built on true engagement

Roger Thunberg, Coordinator installations Bostads AB Vätterhem
A cooperation built on respect and engagement
Thanks to the close cooperation beween Bostads AB Vätterhem and us at Swegon, we were able to answer to the expressed requirements and deliver two adjusted products to Ormhuset. The cooker hood, Swegon CASA Tango Free Flow, and the supply air diffuser, Swegon DOMO.
These two products are now available among our other products developed and designed for use in residential buildings. Both have been further used by Vätterhem, in some buildings in a similar way as in Ormhuset, together with our air handling unit, Swegon GOLD PX. The PX unit is an air handler with plate heat exchangers, which enables for counter flow of the air. A counter flow heat exchanger does not allow the supply air and extract air to mix, important in a project like this where odor should be accurately brought out of the building.
Sustainability unknown to the tenants?
As said above, Swegon GOLD air handling units were chosen for this project. Also mentioned, they were provided with plate heat exchangers, highly advanced heat exchangers where the warm extract air is used to heat the colder supply air. Actually, vice versa is also possible which means that the heat exchanger can be used in an efficient manner to recover cooling energy too.
No matter if it is heat or cold, to recover energy is obviously a relief for the environment as less energy is needed to cool or heat the supply air and to keep the temperature indoors at a comfortable level. This might not be a measure for increased sustainability known to the tenants living in the building, but it is far from complicated and may very well be a key selling point.
Learn more about heat recovery in our guide