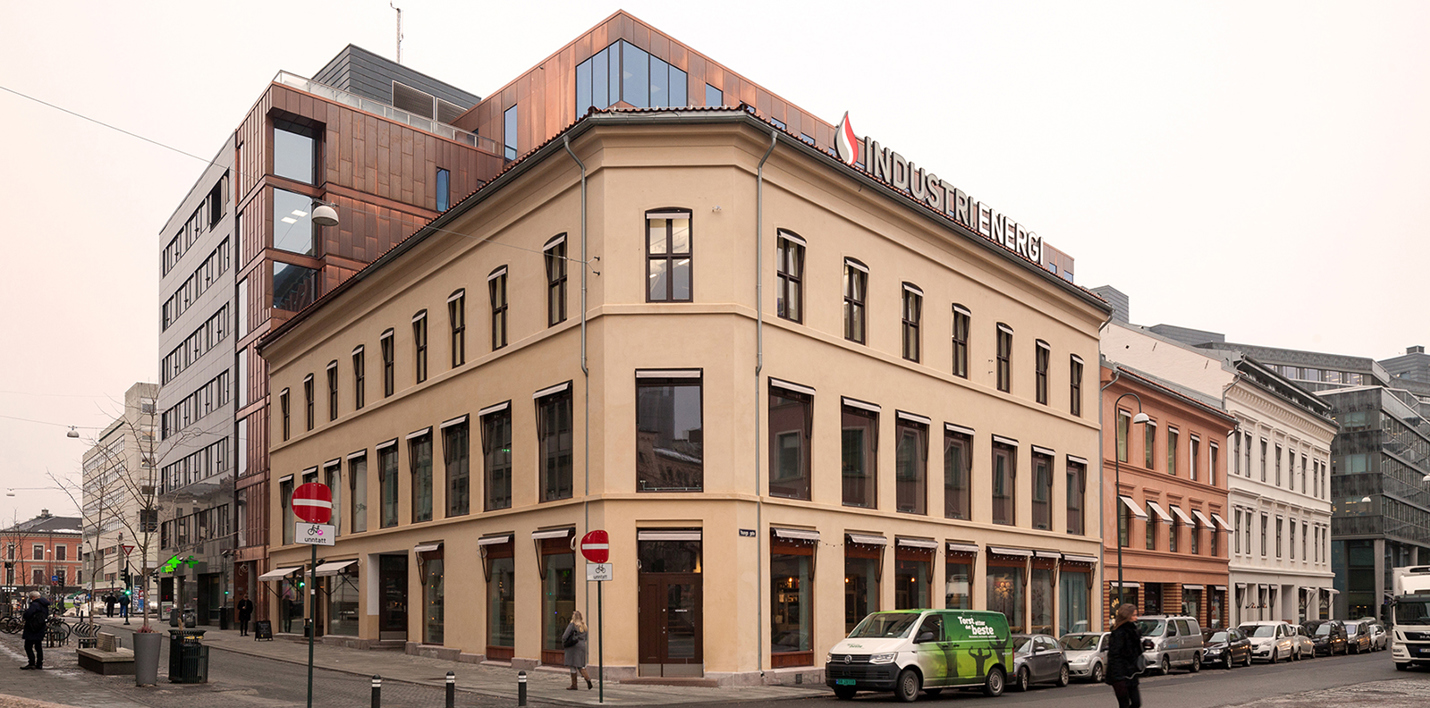 All Youngskvartalet images: © Felix Arkitekter
Youngskvartalet
On Youngstorget (Young Square) in central Oslo you will find Youngskvartalet, one of Oslo's most central street corners. Here modern architecture is mixed with older brick buildings that date back to the last half of the 19th century. Prior to the old brick buildings being protected in 2002, they were in a state of disrepair and forgotten, today, however, they have been completely renovated and have been accompanied by an extension in the backyard.
To combine history with the present time
In 2015 work started on the total renovation of the historical brick buildings on Youngstorget. At the same time, a new eight-floor extension was to be built, docked to an existing office building.
This involved extensive work where new and modern needed to interact with the history of the old brick buildings. What was the result of the combination?
A lift – Both aesthetically and for city life
The older elements that give the brick buildings their charm were preserved during the renovation work. The facade was revitalized by accentuating the original colour together with the existing surface. If you enter the buildings, you can clearly see traces of the historical attributes associated with Oslo's earliest brick buildings. The new modern interiors have clear elements of the building's previous history where existing timber beams and brick walls are exposed. The office floors feature skylights as well as visible timber beams.
At the same time as the renovation work was in full flow, a new extension was being built in the backyard that was interconnected with existing office building via a joint main staircase. Here the facade is clad with copper that over time will take on a patina forming a calm background for the historical brick buildings. After completion the building houses office and restaurant premises.
A good indoor climate – just as important for renovations as for new builds
In a project that combines both renovation and additional building, an indoor climate system is needed that works for both purposes. WISE, which is a complete system that can be adapted to meet different requirements and wishes, was the smart choice. Routing communication cables can be a problem in a renovation project, which is eliminated when wireless communication technology is used in the system.
You also want to ensure good energy performance and a good indoor climate in the older buildings too. Together with 8 GOLD air handling units, WISE provides the building with air of the highest class. Ventilation, heating and cooling are controlled based on occupancy, temperature and air quality. The right temperature is ensured with both air and waterborne heating and cooling that is delivered via Swegon's climate beams, dampers and air diffusers. Fan coils are also connected to the system in parts of the building where there is an extra-large cooling requirement.
Project type: Renovation and extension
Time frame: November 2015 – November 2017
Built: 1861–1874
Area: About 9000 sqm
Products installed: WISE Parasol, WISE Damper, WISE RTA, WISE IAQ CO2, WISE RTS, WISE OCS, WISE IORE and 8 GOLD air handling units (GOLD 30 RX, GOLD 35 RX, GOLD 60, GOLD 70 RX, GOLD 70 CX).