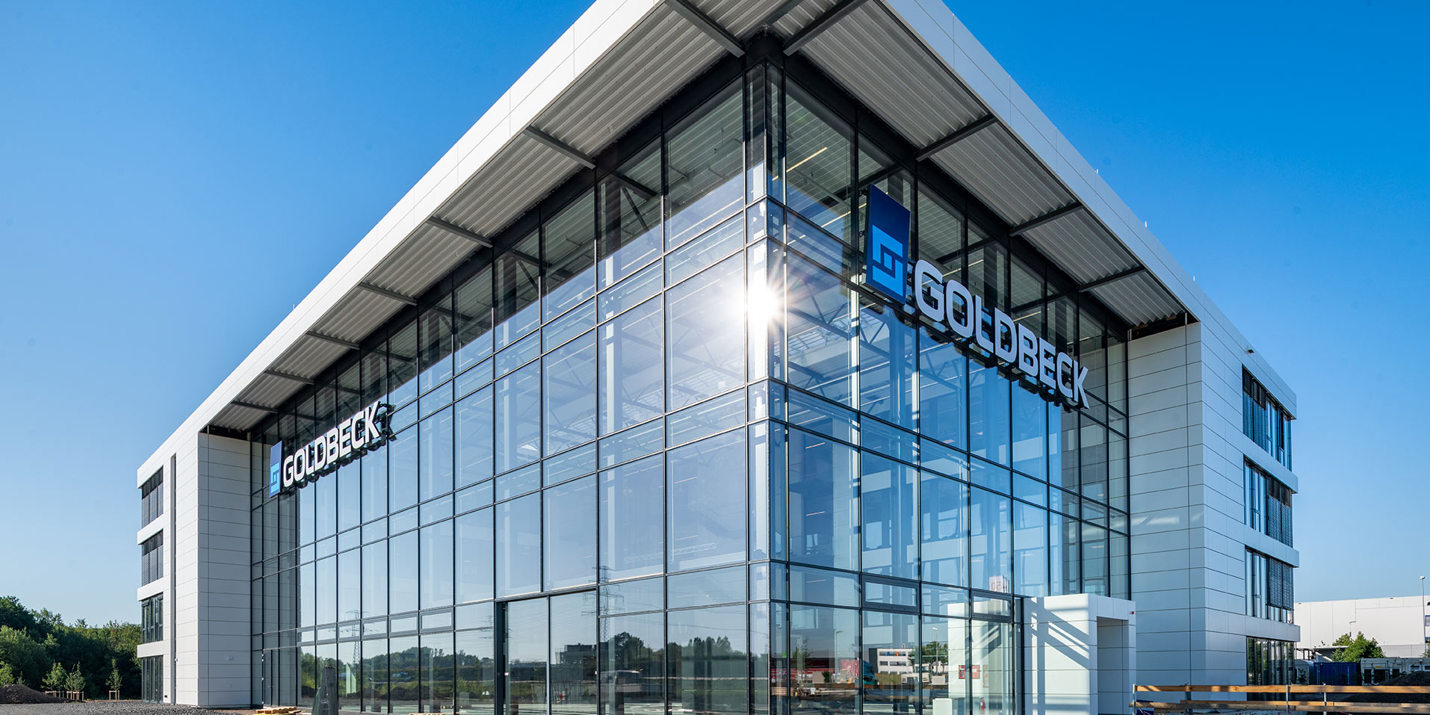 Partners for a good indoor climate
The new Goldbeck showroom in Leipzig, Germany
GOLDBECK GmBH is a building system company that produce turnkey properties for a variety of builing applications, schools and offices for instance. They serve both new-build and renovation projects through their approximate 90 locations throughout Europe and constructed about 500 buildings in the financial year of 2020/2021.
Goldbeck's new headquarter in Leipzig is raised with large façades in glass and roof windows which allow a delightful input of light. Inside is the showroom with great ceiling height which corresponds to the four stories of office space right next to it. The construction materials and plain large spaces give a bit of rustic feeling, but the indoor climate is nice and comfortable.
Three interrelated challenges
Goldbeck as a brand promises building excellence in the turnkey solutions they offer, excellence was therefore a must also in their own building in Leipzig. In this case that meant explicit requirements on sustainability, energy efficiency and building economics - three somewhat interrelated factors.
Knowing the above, the strategic approach was to design a indoor climate solution that takes the entire building into consideration. In this early process, it was evident that there was also clear expectations on low sound levels of the products and components provided as parts of the solution.
Swegon, as a system solution provider too, is an ideal partner for Goldbeck

Dietmar Keller, Dipl. -Ing. FH, Specialist planner for supply engineering, GOLDBECK GmBH
An air handling unit that delivers on many requirements
The air handling unit chosen for this building is the Swegon GOLD RX, where the RX indicates that the unit has a rotary heat exchanger. A rotary heat exchanger consists of a rotating wheel with a multitude of small ducts made of aluminium. The warm extract air heats the ducts which transfers heat to the colder supply air. A further benefit, the rotary heat exchanger can also be used in a highly efficient manner to recover cooling energy.
To recover energy is obviously a relief for the environment, as less energy is needed to cool or heat the supply air and to keep the temperature indoors at a comfortable level. And further, when energy is used in an efficient manner there is normally a direct and positive impact on building economics.
Read more about Swegon GOLD RX
See our guide, Key facts on air-to-air heat recovery
And a multifunctional heat pump for further efficiency
Thanks to the wide range of products from Swegon, a highly energy efficient solution may be delivered by combining the previously mentioned air handling unit with one or more of our cooling and heating products from BlueBox.
In this case a BlueBox OMICRON multifunction 4-pipe unit was selected. This additional unit provides the air handling unit and a number of PACIFIC beams with heat or cold, depending on what is needed for the indoor climate to be comfortable.
A four-pipe system, as the OMICRON, consists of separate supply and return lines for the heating units, and separate supply and return lines for the cooling units. This means that one part of the building can be heated, while another can be chilled. This flexibility increases the comfort considerably as, for instance, the south end of this Goldbeck building with its glazed façade can be very hot in the summer sun, while the north side may require heating.
Read about 4-pipe systems for cooling and heating
We have found something that works well
The film on the left summarises the Goldbeck reference case and gives a good view of the building as well as the products and components provided for the indoor climate solution from us at Swegon.
The dialogue with Goldbeck's specialist planner for supply engineering, Mr Keller, captures the customer perspective of the cooperation with Swegon, and we are proud to be considered an ideal partner.