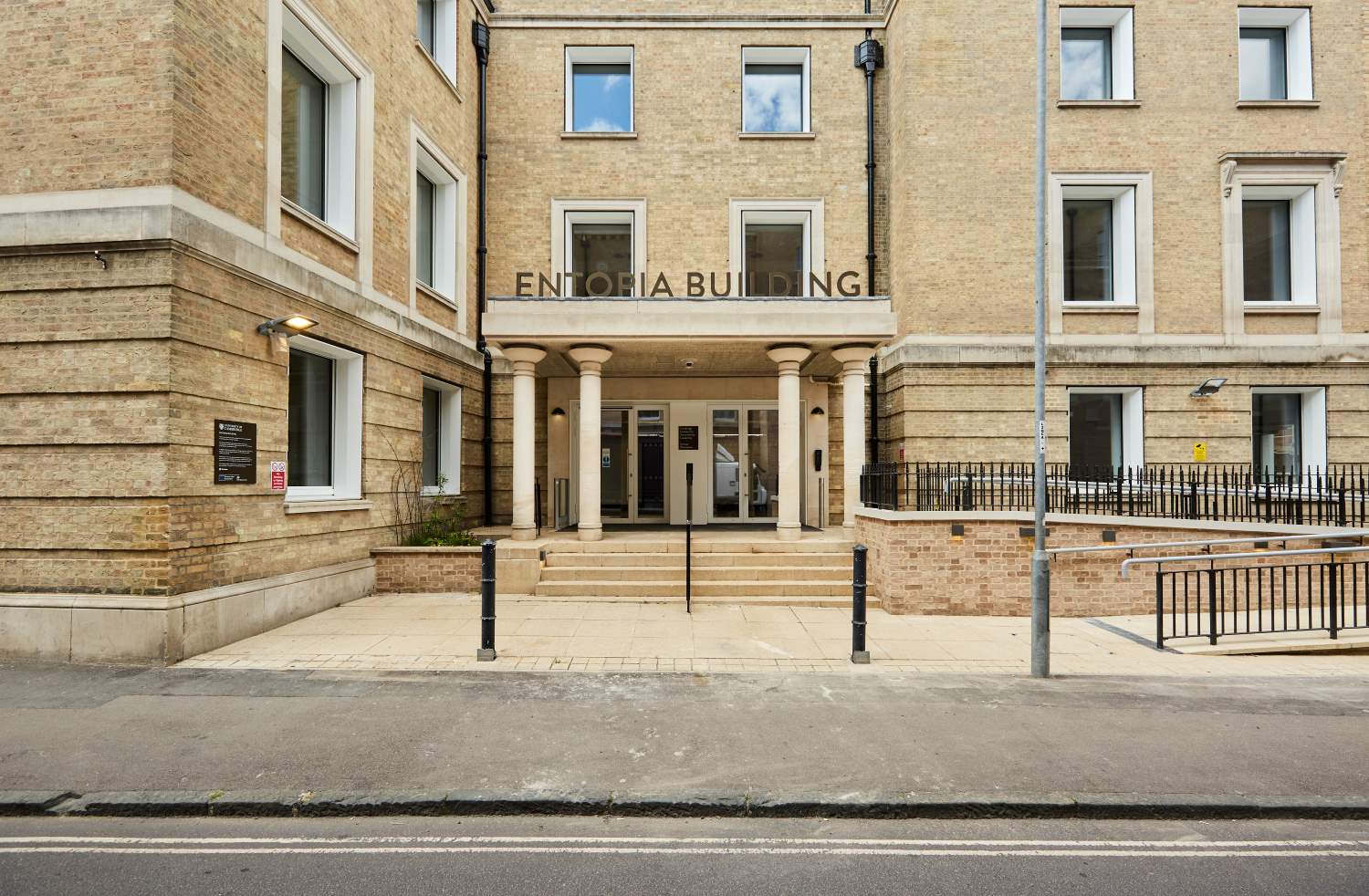 A historic achievement in sustainability
The Entopia Building, a 1930s telephone exchange in central Cambridge, is alive with history. Today you can almost hear the snap of cords being inserted into switchboards and the operators' repeated requests for 'Number, please?' Now, as the building is transformed into the Cambridge Institute for Sustainability Leadership.
Did you know that the construction sector is responsible for more than a third of the emissions within the EU, and that roughly 75% of existing buildings are energy inefficient?
It is expected that between 85-95% of the above buildings will still be standing in the year 2050. Meaning, it's not enough to ensure that new-builds are energy efficient – extensive renovation efforts are also needed to reach the ambitious energy and climate targets within the EU.
The building at 1 Regent Street, Cambridge
The former 1930s telephone exchange building in Cambridge has set a new international standard for ultra-low carbon retrofit office development, with a ventilation, heating and cooling system provided by Swegon.
The Entopia Building at 1 Regent Street, Cambridge is the visionary new headquarters of the Cambridge Institute for Sustainable Leadership (CISL). Designed to meet the Passive house building standard for renovations (EnerPHit) as well as the WELL Gold and BREEAM Outstanding standards. With that, the Entopia Building aims to be a global exemple of sustainable office retrofits.
Read more about the Passive House standard
Learn more about Swegon and building certificates
Challenges in retrofit projects
Normally, there is some kind of solution for ventilation, heating and/or comfort cooling in place in older buildings that are about to be renovated. However, they might not be up to date and therefore a number of concerns may be listed:
What about air quality?
What about heating in the winter?
What about automation and optimisation?
and, what about energy-efficiency?
The Entopia building was no exeption, but had visions beyond the ordinary renovation project. It was clearly stated that it was aiming to set new standards for low energy use, carbon emissions and impact on natural resources, and at the same time offer an exceptional user experience and focus on well-being.
The projected results
The pioneering retrofit of the Entopia Building has astonishing projected results – an 80% saving in whole-life carbon emissions compared to standard refurbishment projects, 75% lower heating demand than average office buildings and air tightness five times higher than that required by current building regulations.
Every decision concerning the building's transformation has been made to maximise sustainability and are in line with 'circular economy' principles, including using recycled paint and second-hand furniture and light bulbs.
The appealing thing about the Swegon system was that they could provide a complete package...which also connects back to the BMS.

Pria Lad, senior engineer and digital design specialist at Max Fordham
A system for an energy-efficient and comfortable indoor climate
Swegon WISE is a complete system for a demand-controlled indoor climate (DCV). It is an advanced system that makes sure that the room or building is ventilated, heated and cooled as much as needed. Not too much, which is energy-inefficient, not too little, which impacts comfort, health and productivity of the ones spending time inside.
The system has a user-friendly design and it is developed to communicate with the entire HVAC system, to capture data from every component. All logged information can be viewed by building management on the SuperWISE interface, or be downloaded. This way, the HVAC solution is easily accessible for future operations, commissioning, service and maintenance.
In the case of the Entopia building, it was important to be able to integrate Swegon WISE with the building's BMS. The SuperWISE II BACnet IP driver sends the entire DCV system data to the BMS via a single connection which allows for utilisation as described above.
Read more about WISE
An HVAC unit with heat recovery
The Entopia building was provided our Swegon GOLD RX/HC air handling unit with an integrated reversible heat pump and SuperWISE II controls. This combination creates a complete ventilation system for demand-controlled indoor climate management (DCV).
The GOLD air handling unit has achieved certification of its ability to meet the exacting requirements of EnerPHit, the Passive House standard for retrofit. One of the reasons to why the air handling unit has been certified is the rotary heat exchanger that allows up to 85% heat recovery. The energy saved by letting the extract air heat the rotating wheel's multiple ducts and transfer the energy to the colder supply air conform with the Passive House standard of construction and operation characteristics.
Read more about heat recovery in our guide
Products
Selected products provided by Swegon