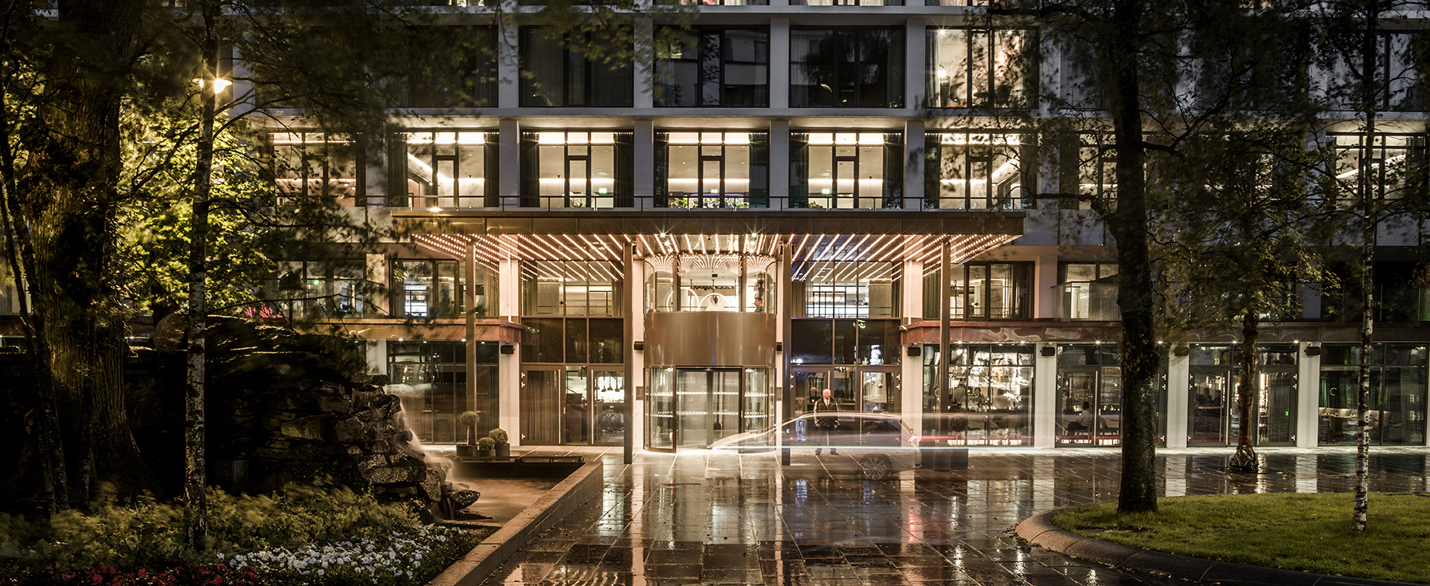 Signature hotel with heritage value
All Hotel Norge by Scandic images: © Francisco Munoz
Hotel Norge by Scandic
Since Hotel Norge opened in 1885 it has gone on to become one of the most prominent hotels in Bergen, Norway. In 2018, the hotel reopened following full refurbishment, and now rebranded as Hotel Norge by Scandic. With its mission to be an iconic, state-of-the-art hotel, today the hotel is a lively meeting place, hosting local functions and international conferences alike.
In brief: Hotel Norge by Scandic
The scenic surroundings of the hotel inspired the interior which combines superior quality with contemporary Nordic design. The premises feature a wealth of distinctive details that enhance the vibrant and unique ambience.
With its 415 rooms, Hotel Norge by Scandic is the largest hotel in Bergen. For added luxury, guests can book suites boasting a patio, sauna and jacuzzi. All rooms, however, feature hallmark floor-to-ceiling windows showcasing the natural light, mountain views and the cityscape.
An energy-efficient solution
Creating a pleasant indoor climate calls for a solution capable of balancing superior comfort with energy efficiency. The specifiers duly settled on WISE, which is a all-inclusive indoor climate system with flexible adaptations for achieving the perfectly balanced comfort level.
Connecting WISE to the hotel booking system made it easy to achieve the ideal indoor climate and to tailor energy consumption to demand. This delivers great benefits to the hotel, which can then reduce its energy bill if a room is unoccupied. When guests check in, the WISE system goes into operation, ensuring that the indoor climate has reached the desired level by the time the guest takes up occupancy of their room. In every aspect, WISE is a flexible solution helping hoteliers create tomorrow's smart hotels.
Technology and design interaction
Swegon supplied products to all 415 hotel rooms, including the Paragon comfort module. WISE RTA, just visible on the walls, was rendered in a black finish, custom-made to meet the architects' design specs. These provide a valuable facility for guests in that they allow them to individually lower and raise the ambient temperature to their personal comfort preferences.
Next, in the bathrooms, which are separate temperature zones, WISE IRT is installed to measure the temperature in the room. With infrared sensors, the products also monitor the floor surface temperature.
No. of rooms: 415, all allergy-friendly
No. of floors: 10
Built: 1885
Refurbished: 2018
Products installed: Paragon, WISE Damper, WISE RTA, WISE IRT, WISE IAQ CO2, WISE IORE