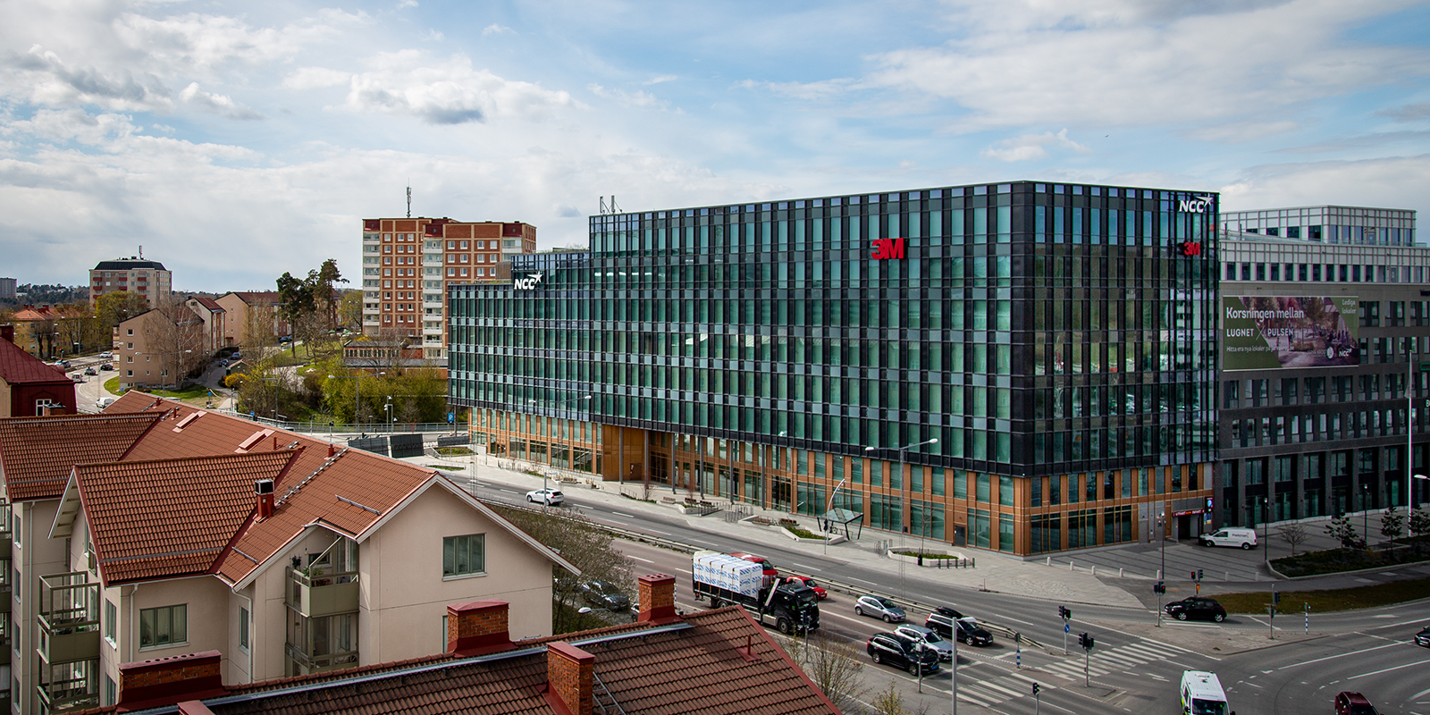 A complete solution, delivered just in time
A new area called Herrjärva
The new area called Herrjärva is located in Solna, northern Stockholm, Sweden. It is an area of a total of ​​90,000 square meters of offices and other business facilities, retail space and housing. The part of the project where Swegon has been involved consists of two office buildings of nine floors each. One of the buildings is the head office of NCC, one of the largest building contractors in the Nordics. The project had a clear focus on sustainability, both in terms of the environment and the people who have their future inside the building. At Swegon we had the opportunity to deliver a complete solution for an optimal indoor climate, all presented in better detail below.
To build the future head office
In this project, NCC was both the client and, later, the tenant as they built their own head office in one of the buildings. According to Åsa Gatter, project manager at NCC Property at the time of the construction, it is reasonable to think that the requirements for the building were set according to the plan of later move in as a tenant. Decisions were made with all colleagues' everyday work environment, health and comfort in mind.
To the right, an interview with Åsa Gatter where she talk about the project. She emphasises the collaboration with us at Swegon, an extensive supplier of the indoor climate in this project.
Flexibility for future tenants
Different indoor climate systems have in the past posed challeges for NCC as they have limited the possibilities of making adaptations for future tenants. With that in mind, the requirement for this project in Herrjärva was to find an indoor climate solution with great flexibility to future proof the premises. Adjustments according to the demands of future tenants should easily be implemented.
NCC looked primarily for a wireless system as they were sure that would be the easiest to operate and adapt to future needs. Thanks to previous good experiences of our indoor climate system, Swegon WISE, we were short listed and chosen for this particular project.
Learn more about Swegon WISE
Sustainability in every decision
Sustainability was key in every decision from the very start of the project. In this case sustainability was in part defined as social, related to the work environment, health and well-being of the people in the building, and in part defined as the building, related to the actual construction process. For instance, NCC required solutions that last over time and strove for a high degree of utilization of materials.
As focused considerations where made to environmental and sustainable aspects througout the entire construction process, the building is today certified according to the BREEAM Excellent standard.
Read more about our work for a sustainable future
More about swegon as a partner for certifying a building
The fact that Swegon continously delivered on time helped us at NCC to speed up the construction process.

Åsa Gatter, project manager at NCC Property at the time of the construction
A complete solution for a flexible indoor climate
NCC required a flexible indoor climate system that allowed for advanced adjustments as changes tend to occur over time in a building. A primary concern was that adaptations for future tenants should be made easy to enable comfortable indoor environments that promote health and well-being.
Thanks to NCC's previous good experiences of Swegon's wireless and demand-controlled indoor climate system, WISE, they decided to provide the building in Herrjärva with this. A demand-controlled indoor climate (DCV) is not only to the benefit of the people inside the building but it is also beneficial for the building economics. This because WISE makes ventilation, heating and cooling meet the needs inside the building.
Aside from Swegon WISE and our GOLD air handling units, we delivered a wide range of indoor climate products to both buildings in this project. Room units as well as attenuators have been provided to complete the solution and meet set requirements of a flexible, comfortable and sustainable indoor climate.
More about DCV and Swegon WISE in our expert's blog
We truly consider Swegen a reliable partner who can support us throughout the process

Åsa Gatter
Swegon is a committed partner
Finally, the project in Herrjärva was carried out as a so called "partnering project". It is a model for collaboration where a number of partners are involved and commit to common goals, and sometimes even consolidated budgets. It is a structure for cooperation that is becoming more typical in larger building projects, especially in Sweden where this case is from.
In that context, we considered ourselves more than a supplier in this project. We were involved and engaged in the building process from the early stages until commissioning and added value along the many building phases.
Surely noticable throughout this reference case, NCC recognise the partnership with Swegon as one of the many aspects of success in Herrjärva. The fact that the responsibility for a complete HVAC solution was not divided between several parties seem to have been key for this project's achievements.
Get to know us better
Products
We provided a complete HVAC solution from Swegon, below are a few selected products