A hotel with focus on Indoor Environmental Quality
citizenM Copenhagen Rådhuspladsen
citizenM Copenhagen Rådhuspladsen is located in an historic building in the heart of Copenhagen close to the City Hall Square at Radhuspladsen. The hotel and its rooms are far away from historic though. The atmosphere in citizenM Copenhagen Rådhuspladsen is cool, modern, relaxed and the rooms are high-tech with many possibilities to adapt to the hotel guest's preferences.
A historic building adapted to the future
citizenM Copenhagen Rådhuspladsen is located in one of Copenhagen's most famous and central properties near the Town Hall Square, Dagmarhus. It was converted to a hotel in 2018 with room for several hundred guests. The historic property Dagmarhus on the corner of Jernbanegade and HC Andersens Boulevard has been used as an office property since its construction in the 1930s.
In 2018 when the building was transformed to a hotel an additional floor was added (7th floor) on the building's roof. The additional floor hosts a reception, sky bar, lounge, meeting rooms and a wooden terrace along the entire floor with excellent view over Copenhagen.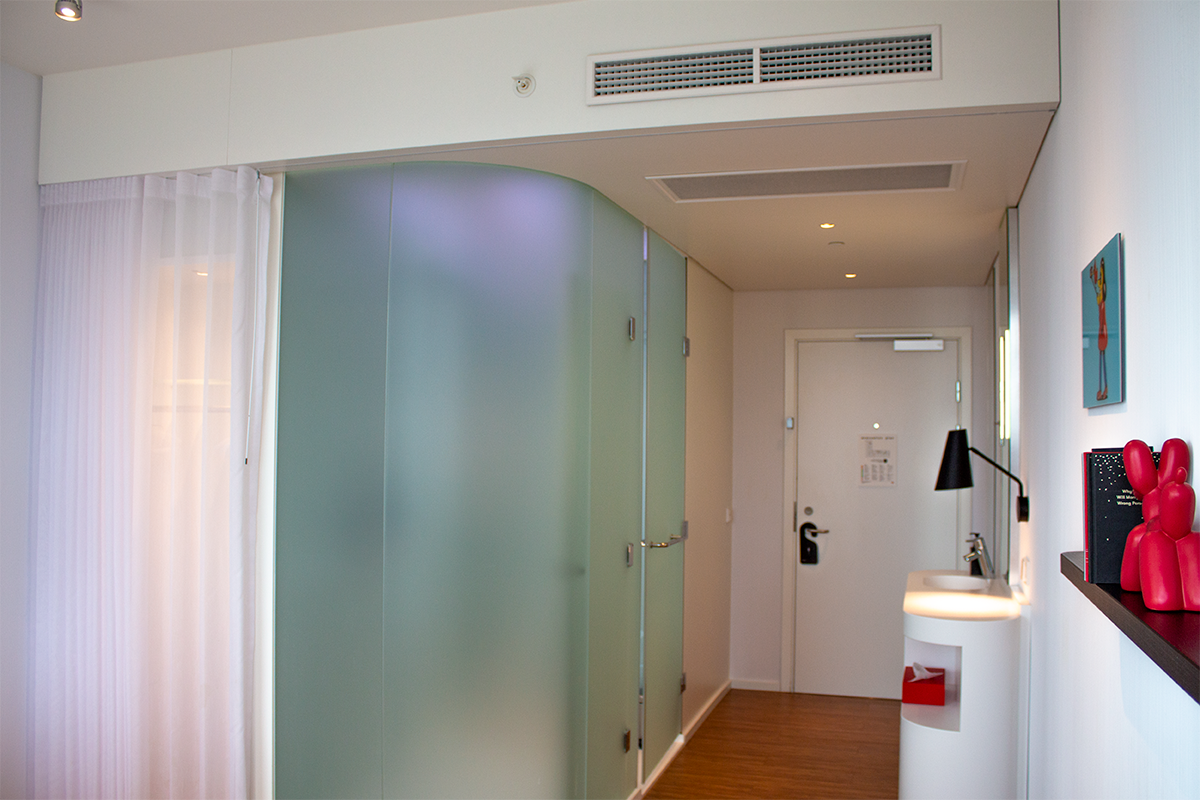 Excellent climate comfort thanks to PARAGON
In all 238 rooms Swegon's comfort module PARAGON is installed. PARAGON ensures a quiet, draught free and comfortable indoor climate. PARAGON is a one-way blowing comfort module adapted to optimize the comfort of hotel rooms. PARAGON both heats, cools and ventilates to create an optimal indoor climate. The product is
adaptable to the different needs and comfort requirements of hotel guests.
Adaptable room environment - Individual comfort
citizenM Copenhagen Rådhuspladsen makes sure each guest has a comfortable stay and provides several option to adjust the room based on individual needs. In each room the guest has access to a "moodpad" (iPad) where several settings of the room can be changed. It is also possible to use citizenM's app which allows you to control the same settings but via your smartphone instead.
The room temperature and fan speed can be set to desired values. You don't have to get out of the bed to open the blinds, you just push a button on the moodpad. Do you prefer cool or warm lightning? Adjust as you want! You can even pick the colour on light! If you are in a mood for a green bathroom light it's only a click away.
Customised solution
Thanks to close and intensive cooperation between Swegon and citizenM's architects, it was possible to find a solution that met citizenM's exacting requirements.
With Swegon's solution citizenM gets:
Optimized cooling and heating, which saves energy and cost
Selectable control equipment that can be connected to control systems and bookkeeping systems
Centred air connection for easy access
Easy installation thanks to plug & play
Energy-efficient and cost-effective products
Service-friendly products, easy to maintain
Low construction height
It is all in the details
There are a lot of fun and modern design details throughout the hotel that for sure will make you smile. All over the place there are witty, fun and colourful details.
citizenM Copenhagen Rådhuspladsen stands out among other hotels, not only by creating an exceptional guest experience, but also by inviting local artists to add a real local vibe to the exterior and interior. For citizenM Copenhagen Rådhuspladsen, artist Troels Aagaard painted an entrance mural on both walls, while Ditte Ejlerskov and HuskMitNavn contributed in-room art, wall and ceiling murals in the sky bar.
QUICK FACTS
Hotel rooms: 238
Built: 1930
Renovated for citizenM Copenhagen Rådhuspladsen: 2018
Installed Swegon products: PARAGON