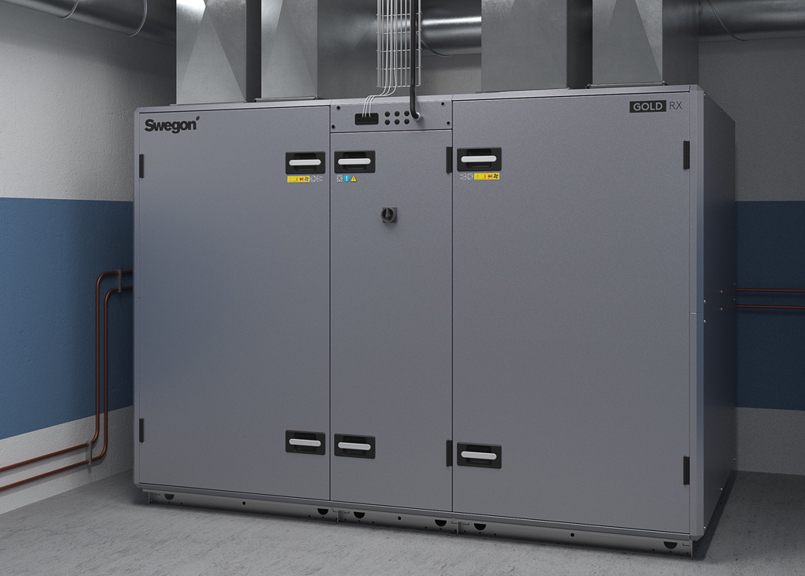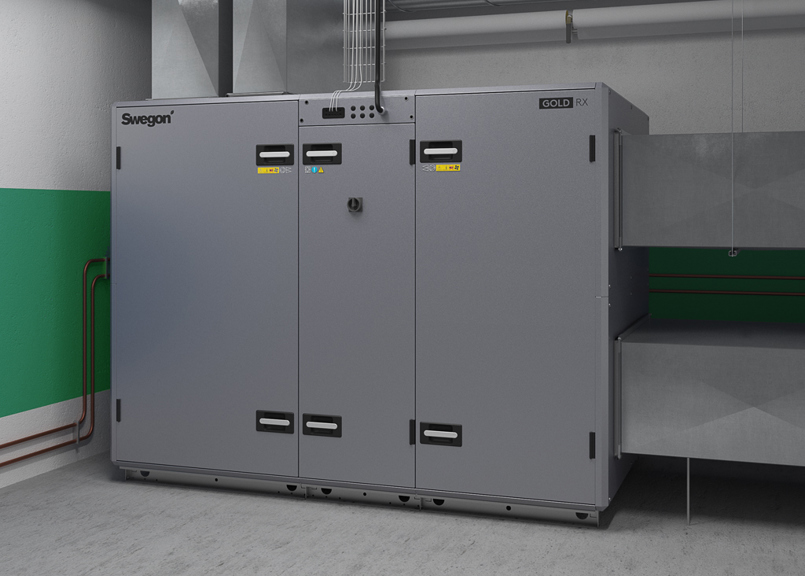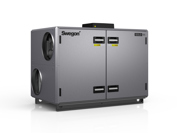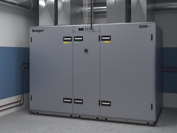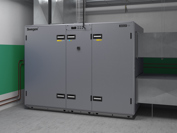 GOLD RX
Air handling unit with rotary heat exchanger
GOLD RX is a complete air handling unit with rotary heat exchanger, direct-driven supply air and extract air fans as well as supply air and extract air filters.
Temperature efficiency, heat exchanger up to 85%
Air flows up to 50.400 m³/h
Variable speed control for rotary heat exchanger
Recovers heat energy and cooling energy
Optimised fan sizes give greater freedom to choose exactly the right size of air handling unit and fan variants to suit the needs of the installation. This also gives even greater possibilities to optimise the energy efficiency of the current project
Rotary heat exchanger RECOnomic / RECOsorptic
A rotary heat exchanger consists of an aluminium wheel with numerous small air passages. Energy is transferred between the supply air and extract air or vice versa when the wheel rotates. This is the most energy efficient heat recovery method with a temperature efficiency that always exceeds 80%. Thanks to a patented design with a turbulent flow in the air passages, RECOnomic attains a uniquely high degree of energy efficiency.

Swegon's rotary heat exchanger is also available in an sorption version (RECOsorptic), which increases the energy efficiency further through the product dehumidifying or recovering moisture depending on the conditions and needs.
Full control over air quality
On account of the unique combination of purging sector and Carry-Over Control functionality, the risk of leakage between the extract air and supply air is minimised, which ensures the building is always ventilated with fresh air.
GOLD RX/HC – integrated cooling and heating
The new generation of GOLD introduces many new opportunities. One major addition is GOLD RX/HC, a plug-and-play solution for integrated cooling and heating production. Thanks to an integrated reversible heat pump it is now easier than ever to create a comprehensive ventilation system. Incredibly easy to plan, install and commission. Furthermore, all functions are easily accessible via GOLD's user interface.
Whilst we have made every effort to ensure information on this website is up to date and accurate, the technical specification and availability of products/services listed on this website may vary market to market and are subject to change without notice. Please contact your regional representative or visit your local website for further details.