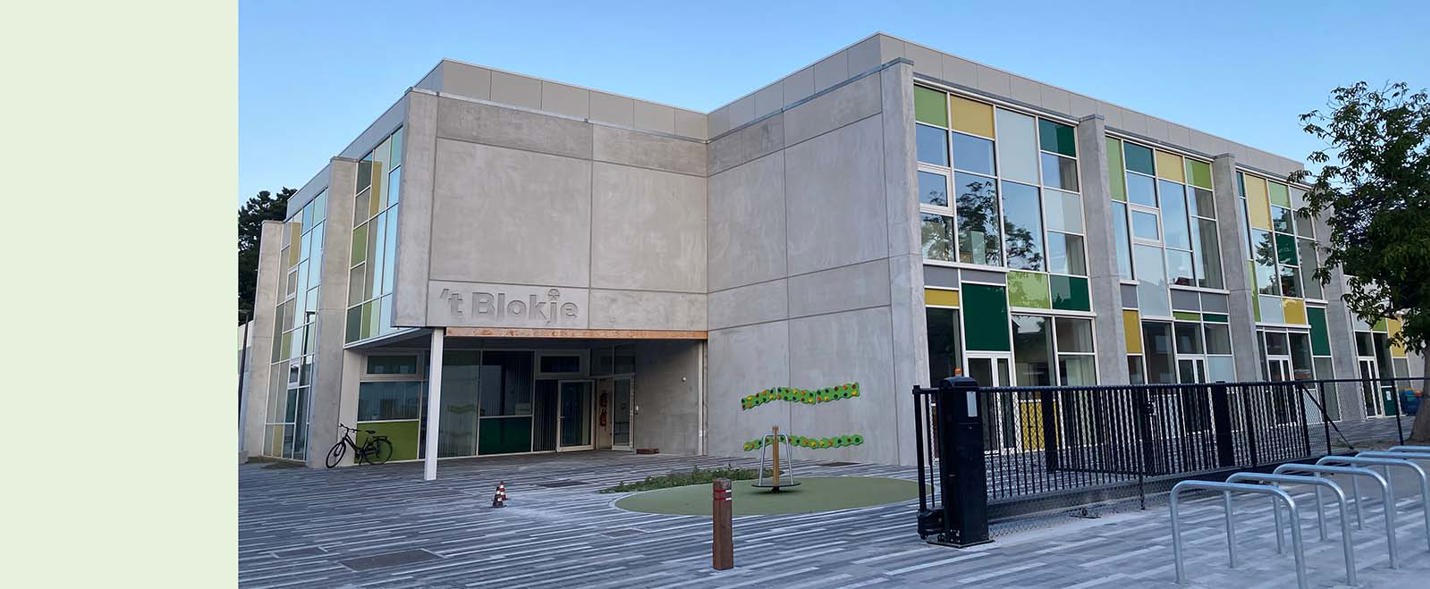 Efficiency, flexibility and simplicity at t'Blokje Loenhout school
A good indoor climate increase performance
Awareness is on the rise of how good indoor climate and performance go hand in hand. Many would consider the school to be the most important building to provide with a healthy, comfortable and productive indoor environment, as future generations are spending much of their time there. t'Blokje Loenhout in Wuustwezel, Belgium, finds it important and has provided the school with an indoor climate solution designed with products of high quality and great flexibility, which allow an energy-efficient and future-proof solution.
Interaction in the school environment
t'Blokje Loenhout is a municipality owned school in the city of Wuustwezel in the north of Belgium. Children in the ages between 6 and 12 years attend the school from kindergarten to sixth grade.
The school is unusual in the way that it is built together with apartments and multifunctional facilities that welcome other people than the school's students. This way, the school environment is intentionally created as a place for social interaction. There are hopes that the building will make it possible for different generations to meet and share knowledge, interests and excitement about school subjects as well as music, arts and crafts etc. The sports hall is naturally becoming a place for display of students' musicals, paintings, gymnastics skills, ball games and more.
Low classroom utilisation
The main challenges for t'Blokje Loenhout was to provide a good indoor climate without compromising efficiency, flexibility and simplicity.
For many it is well known that a classroom may be sparsely utilised, however, few are aware of the fact that parts of a school is used as little as 30-35% of the day. Efficiency is therefore a crucial factor when an indoor climate solution is designed. Flexibility and simplicity is also important considering that the number of students may vary over time, the teaching methods might change and adjustments to the building should be easy without negatively impact on the indoor climate.
Read more about the indoor climate in schools in our blog, Would we let our kids skip breakfast before school?
Learn more in our School guide
Air handling units with humidity recovery
The indoor climate in schools is, among a few other things, the key to good performance and results of students' work in the classroom.
In the case of t'Blokje Loenhout, our Swegon GOLD air handling units with sorption treated rotary heat exchangers are chosen as an energy efficient foundation for the solution. The sorption treated heat exchangers are, a side from recovering heat or cold, also recovering humidity. This allows a comfortable indoor climate that is not too humid in the summer and not too dry in the winter.
Read more about heat exchangers in our guide
Energy efficiency through variable air flows
The GOLD air handling units also allow a variable air flow which can be managed according to occupancy and activity throughout the different parts of the building. Meaning, one classroom might be fully seated and the air flow increased to maintain comfort and productivity, while another classroom might be empty and the air flow significantly lower.
With the above said, significant energy savings may be possible. The "summer night cooling function" is also contributing to energy efficiency as it is an automatic operation mode where the lower outdoor night temperatures are used to cool the building overnight until the students return in the morning.
Read more about demand-controlled ventilation in our guide
Get familiar with our GOLD air handling unit
Ceiling solutions for a productive school environment
More than 150 EAGLE nozzle diffusers are provided the different classrooms throughout the school. By the means of the adjustable nozzles the indoor climate is made flexible and future-proof as the air distribution can be guided in unique patterns to ensure that each environment is drought-free, comfortable and productive, even if the floor plan changes.
The EAGLE diffusers are also combined with acoustic products which ensure a very quiet operation, hence, a productive classroom environment and good conditions for learning.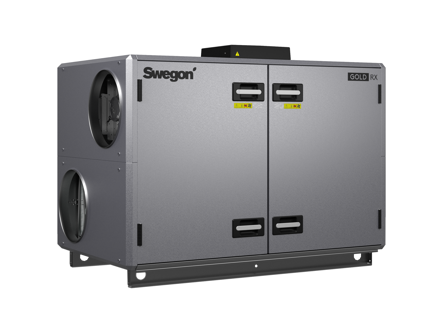 GOLD air handling unit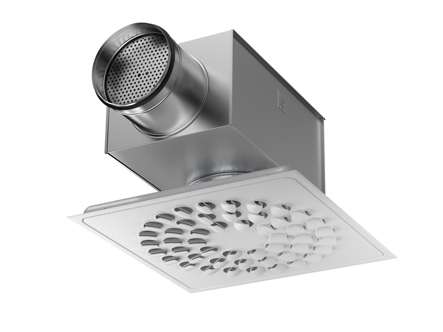 EAGLE ceiling diffuser