Offices – Airborne systems
A ventilation system tailored to office environments needs to provide a sound indoor climate at the lowest energy cost achievable, while the client benefits from a safe and reliable installation.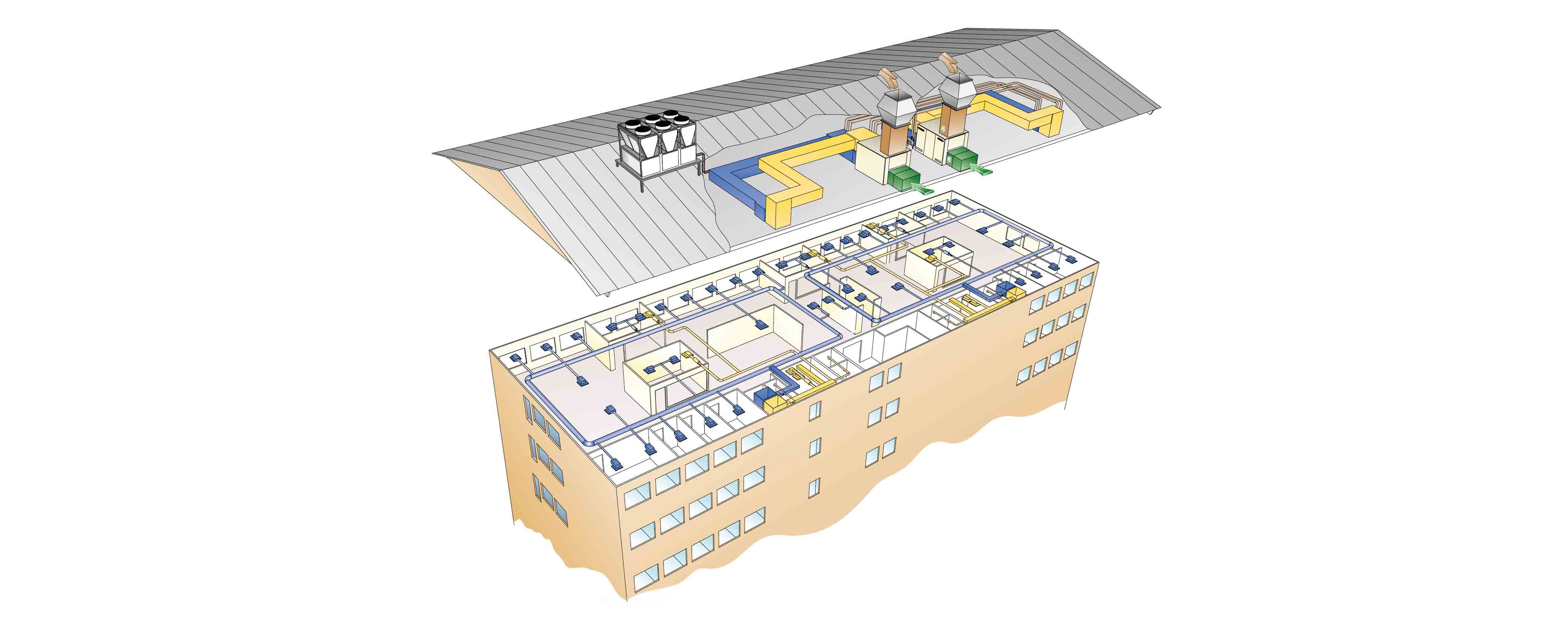 An effective system for variable occupancy
The premise is a system solution for multistorey office buildings. Systems for these types of office spaces are typically scaled to cater for maximum occupancy at all times. However, the number of individuals actually present in the office at any given time may well vary, depending on the size and nature of the business. If the office frequently runs on a skeleton staff, the pre-existing ventilation system may be oversized, which costs money and energy. The solution to this problem is a demand-controlled system geared to day-to-day variations in occupancy and load.
Seamless and energy-smart
With an airborne solution, each floor in the office block will be served by a system based on two centrally-located air handling units and externally generated electricity, cooling and heating. The air flow required by the office block at a given time is demand-controlled via the air handling system.
With this solution, each office space is air conditioned and ventilated by means of supply air diffusers and radiators. The conference rooms will be air conditioned by means of flow dampers, ceiling diffusers and radiators.
Free cooling cuts costs
In its simplest form, cooling is obtained from the relatively cold outdoor air without the need for a chiller – otherwise known as 'free cooling'. In this system, the air handling unit's outdoor air is used for cooling, in that cold air is fed into the air diffusers in the different interiors. With a heating coil in the supply air, the winter temperature is adjusted to prevent the air from becoming too cold. The system is fully functional at outdoor temperatures below approx. 16 °C, making it ideal for cold climates.
Any multipurpose areas such as receptions, kitchenettes and cafeterias, are air conditioned by means of an air diffuser. A communication unit then links the system to the air handling units.
The benefits of airborne systems for office spaces
- Enable use of energy-efficient free cooling
- Simple, low-cost installation
- Low maintenance
- Healthy indoor air quality due to greater air volume