New release of AHU Design v.3.2.0
(June 16, 2022)
Version 3.2.0 release contains following:
News - Aluminum fan for Global range
News - SORDO silencers for Global Range
News - MOLLIER DIAGRAM integrated in AHU Design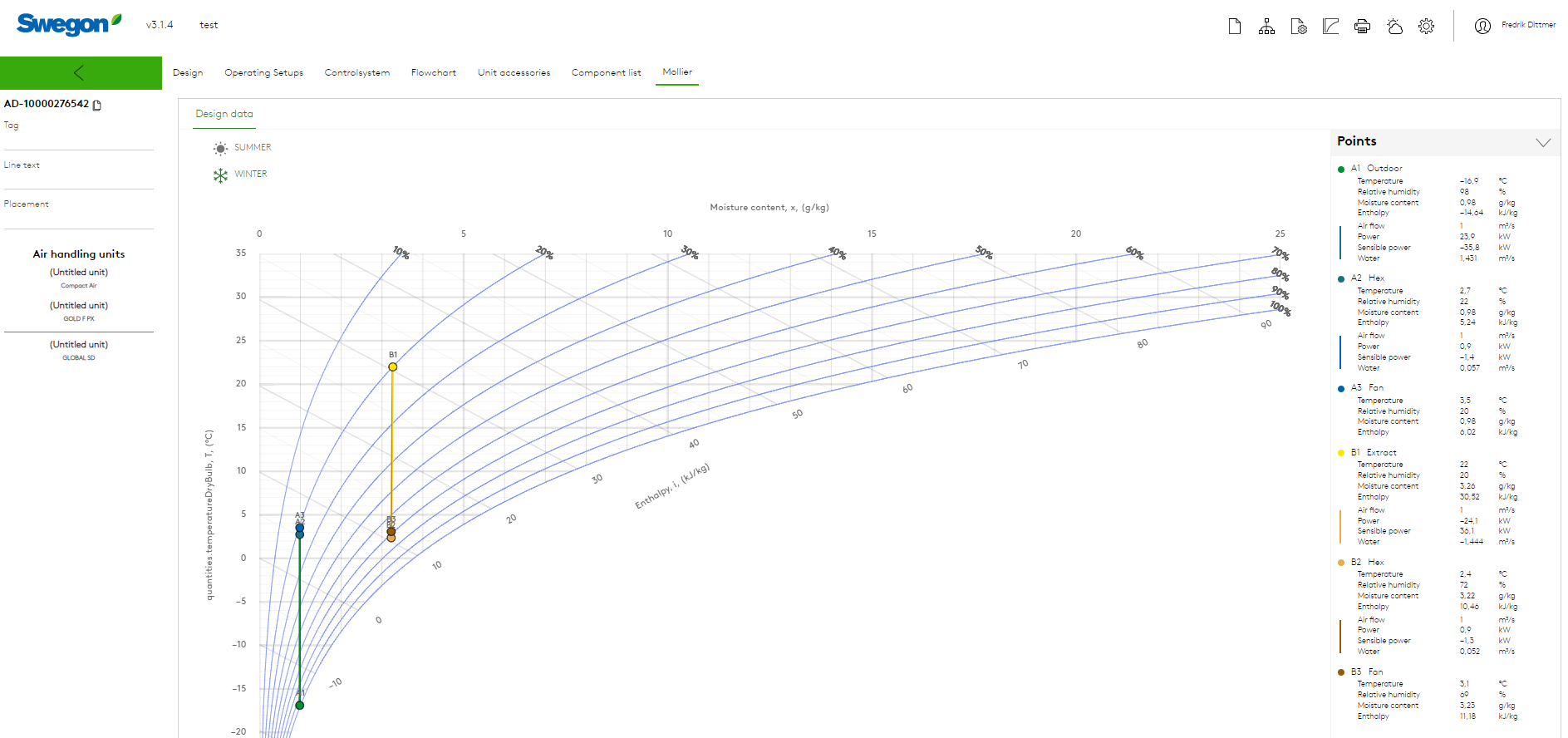 APPLICATION /GUI
The selected view does not change when you switch to another Air unit
Display connection diameter of IBA & EBA
Use different sketch view in barcode for Global PX TOP
Turn on the FMEG in printout
Fix - Aircoil version 29, new .dll. Price issue is now solved.
Fan efficiency & Temperature efficiency will be displayed with one decimal.
PRINTOUTS
New SFP values available for output
It is now possible to select two new SFP values:

SFPe is calculated using the design operating point instead of the clean filter operating point.

SFP is calculated without additional pressure drop on the extra. This might be interesting for units with rotary heat exchanger and return air mixing section.

SFPv must always be included and it is not possible to deselect it.

Example of printout for GOLD RX unit with all three SFP definitions.

Note that the additional pressure drop is relatively large in this case – just to show that there can be a significant difference!

Definitions of the different SFP values
For the Swedish market attention is drawn to the guidelines published by Svensk Ventilation:
https://www.svenskventilation.se/publikation/rekommenderade-sfp-definitioner-med-berakningar-och-testmetoder/

For other markets an English translation is available: (Please see attached file)
EATR translation corrections for German language
RLT certification correction for GOLD RX and RX Top
GOLD / SILVER C
Fix - Prefilter correction(13403)
Fix - Multifunction configuration correction (After selecting TCBP, you can now only add one TCFE. Previously icon was left as cased icon) (13421)
Fix - Placing humidifier in Flowchart, corresponding to selection in Controlsystem (13547)
Fix - Sizes corrections for RXHC (size bigger than 30 is now selectable).
Fix - Bottom beam correction for Size 80
Fix - Change of supply direction now works for all versions of size 14-20 TOP-units.
Fix - Correction of article number for 50-120 multifunction part 2.
COMPACT
COMPACT Unit, COMPACT Top and COMPACT Heat have been discontinued in AHU Design

ALL GLOBAL RANGE
Fix - Removed the possibility to place circular damper in air-flows where no fitting duct is available.
Fix - Corrected faulty wiring for circular damper, extract air, spring return.
Fix - Improved property-messages for Connection Component.
Fix - Adjusted default settings and possible configurations of Connection Component.
Additional function - Control system includes all function connected with SAT IO

GLOBAL RX and RX TOP
Fix - Modified 'Antifrost' selection.

GLOBAL PX and PX TOP
Fix - Spring return Damper only connectable to DO5(6) and GND (Wiring diagram)