Advanced cooling one of the keys to success
Tomlinson's Dairies in Wales
When brothers Philip and John Tomlinson took over the farming business from their parents, they bought Pen y Palmant Farm in the village of Minera, close to Wrexham in North-East Wales in 1978. They quickly realised that there was a demand for locally-produced bottled milk in the region. As a result, they built Tomlinson's Dairies next to the farm in 1983 and started up doorstep deliveries to local residents.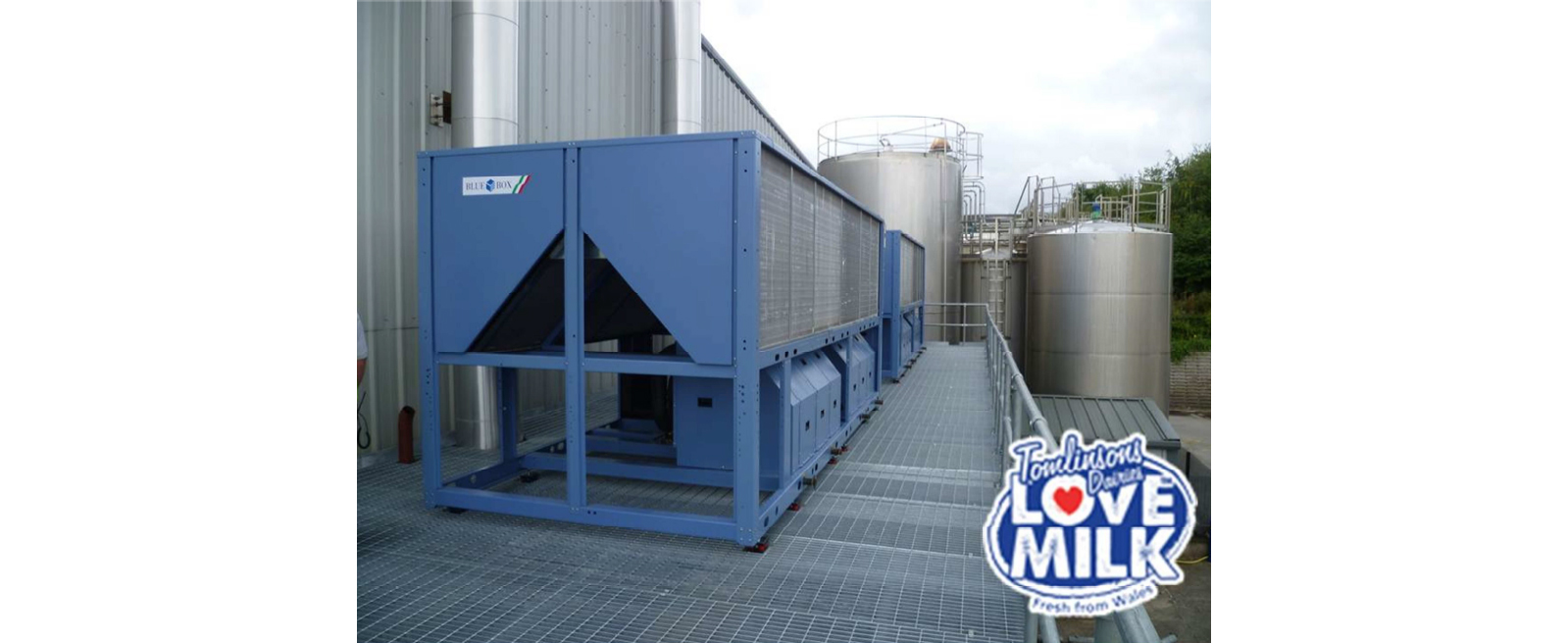 Significant expansion
Slowly but surely, their business expanded as demand grew and they began supplying milk across Wales, the Midlands and the Northwest of England. The dairy was producing about 25 million litres of fresh milk a year. However, the growing demand for the dairy's products meant that its capacity needed to expand too. As a result, a larger dedicated dairy was constructed across the road from the farm in 2012. The new dairy is fitted with state-of-the-art equipment and has the capacity to produce in excess of 100 million litres of milk a year.
Noisy old coolers were a problem
Unfortunately, large-scale production of milk in premises of that size can also produce negative effects, such as noise. This led to complaints from the authorities and an investigation into the cause of the noise, which proved to be two milk-cooling units.
"We were under pressure to reduce noise levels from the production facility and it was a target we simply had to meet," explains S. Landen, the dairy's engineer.
Authorities satisfied with new cooling units
The answer to the problem was to replace the old cooling units with two new ones from Swegon's Italian subsidiary BlueBox, which specialises in cooling systems. Replacing the cooling units meant that the authorities' requirements for reduced sound levels could be met and that the site now has the cooling capacity needed to serve future requirements.
Energy-efficient technology
The new cooling units from BlueBox/Swegon were air-cooled units for water cooling with semi-hermetic screw compressors and shell and tube evaporators (the complete unit is a Kappa V EVO Class A/DS/SLN 54.2). These high-efficiency units are fitted with desuperheaters, which means that each refrigerant circuit has a heat exchanger for the recovery of 20% of the condensation heat. The dairy now has a high-class cooling system with a minimum capacity of 465 kW for each unit, a sound level below 87 dBA at an operating temperature of -2°C and an energy efficiency ratio above 3.26. Furthermore, as they were SLN (Super Low Noise) units, they met the requirements for low sound levels.