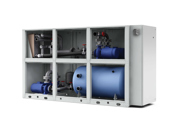 AQUA Link
Advanced hydronic module
AQUA Link is a pioneering hydronic module designed to optimise connection between the chiller and the users in plants featuring both an air handling unit (for air ventilation and humidity control) and chilled beams (for ambient temperature control).
AQUA Link always produces and distributes the exact right amount of water at the exact required temperature to both cooling coils and, for example, chilled beams.
AQUA Link contains all you need in a water circuit between a Swegon chiller and GOLD air handling unit. The former time-consuming and expensive process is now replaced with Plug and Play!
One single interlocutor for the entire plant eliminates possible inconveniences relating to identification of responsibilities and difficult communications with the various parties involved.
The system only requires hydronic and electrical connection between the chiller, the users and the AQUA Link to operate.
All equipment and components are condensed in one unique volume and AQUA Link can be placed outdoor.
Energy efficient through demand controlled operation and energy efficient pumps.

Configurations
NG: Without glycol
1P: One pump in the primary circuit
1P-1P: One pump in the primary circuit and one in the secondary circuit
2P: Two pumps in the primary circuit
2P-2P: Two pumps in the primary circuit and two in the secondary circuit